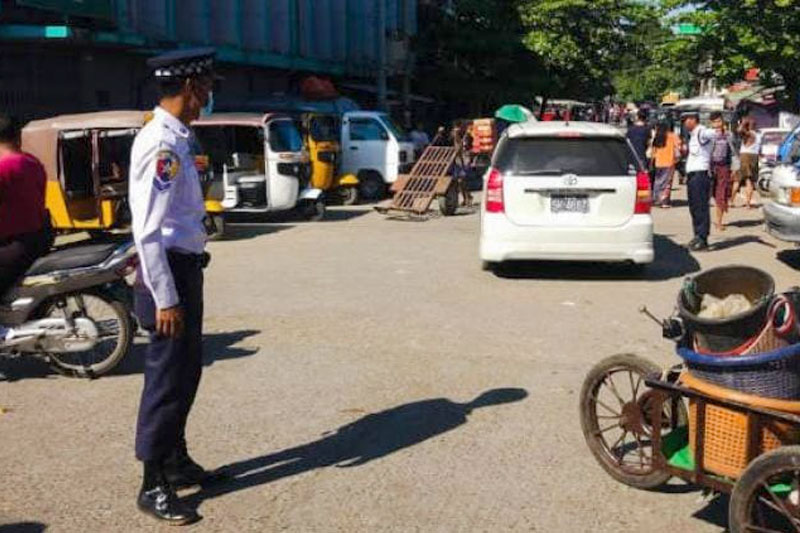 DMG Newsroom
11 February 2022, Sittwe
Dozens of motorists have been fined for failing to heed road rules accompanying the recent implementation of a one-way traffic scheme in the Arakan State capital Sittwe, police said.
Implementation of the one-way system began on five roads near Sittwe Myoma Market from November 13 of last year.
Beginning last month, action has been taken against motorists failing to obey the new traffic regulations, after the Traffic Police Force allowed first for a few weeks of public awareness campaigning.
A total of 51 motorists were charged under Section 96 of the Motor Vehicles Act over the past month, with the local court ordering offenders to pay fines of K20,000, deputy company commander Myat Moe Kyaw Thu from the No. 5 Traffic Police Unit (Arakan) told DMG.
"We are taking action against motorists who fail to obey the new regulation as the education period is finished," he said.
He added that some roads near the market are designated as one-way roads as a first step in an attempt to reduce traffic congestion in Sittwe.
"If one-way drive systems are adopted in Sittwe, traffic congestion in the capital will be lower. Anyone who is living in Sittwe needs to follow the new regulation," he said.
Daw Nyo Aye, chair of the Rakhine Women Network in Sittwe, said setting up new traffic regulations for the development of the state capital was a good move, but she stressed that the relevant departments needed to make the regulations widely known among the public.
"It needs to provide public awareness widely, until almost all people know about it. Some signboards written about the regulations are hidden behind the big umbrellas of the shops, so people do not see them. The relevant authorities need to take note," she said.
Authorities have sought to adopt one-way driving plans in Sittwe Township in the past, but implementation was delayed due to regional security concerns and the Covid-19 pandemic, according to the Arakan State Traffic Police Force.
One-way traffic schemes have been put in place in the Arakan State towns of Kyaukphyu and Thandwe.