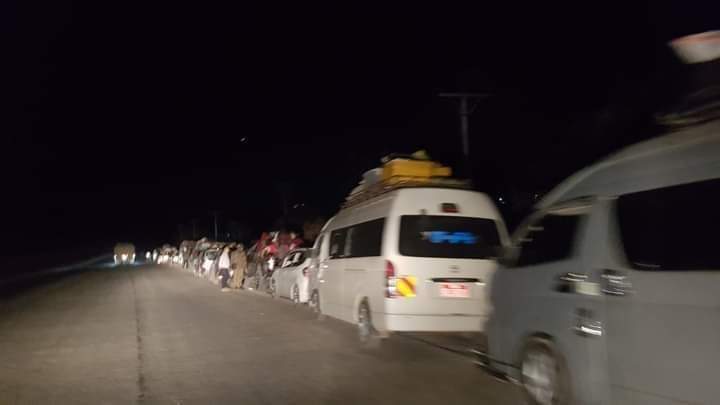 DMG Newsroom
14 January 2022, Loikaw, Kayah State
 
Clashes between the Myanmar military and the Karenni Nationalities Defence Force (KNDF) have forced residents of Kayah State's Loikaw, Demoso and Hpruso townships to seek refuge in nearby displacement camps.
In recent days, more than 20,000 displaced people (IDPs) have fled to the Thai border and Shan State as Myanmar military artillery shells and airstrikes threatened them at IDP camps, according to a Karenni relief group.
 
"Fighting between the Karenni Nationalities Defence Force and junta troops has been raging for three days. The regime forces opened fire on the villages with heavy artillery, forcing locals to relocate to refugee camps. Some displaced people have fled to Shan State and the Thai-Myanmar border," said an official from a Karenni relief group.
Six locals were killed and eight others injured after fierce clashes broke out between junta troops and a coalition including KNDF forces in Loikaw, Demoso and Hpruso townships from January 6-3. Myanmar military artillery shells also damaged two churches and more than 22 homes in the area.
A KNDF official said the IDPs needed shelter, drinking water and clothes to withstand the seasonal cold weather.
"The first priority is for the displaced people to be able to settle down safely, and the second is clothing and food for them. The main need for displaced people is drinking water," the official added.
The Myanmar military launched an airstrike near Loikaw on January 12, forcing residents to flee the Kayah State capital.
As fighting between the KNDF and junta troops intensified in and around Loikaw, many Karenni residents have reportedly fled to Pekhon, Pinlaung, Aungban, Hsihseng and Taunggyi townships in neighbouring Shan State.
A local philanthropist said that while locals were trying to flee, checkpoints were set up by junta soldiers along the road to keep tabs on travel, with some locals ordered not to leave Loikaw.
"The fighting was fierce, but some were trapped inside the town. The junta soldiers also blocked those who tried to flee. The displaced people are alarmed by the military junta's inspections and threat," he explained.
More than 300 Karenni IDPs fleeing to Shan State have been allowed to take refuge in nearby monasteries, according to a member of the Karenni relief group.