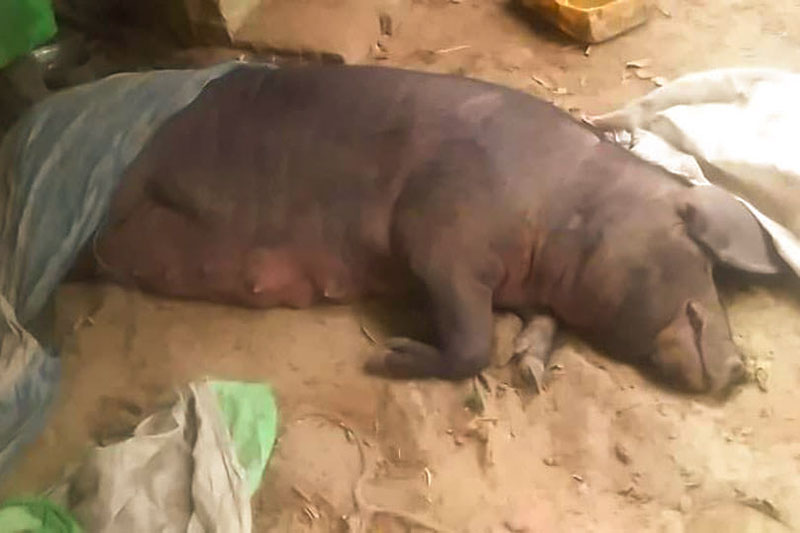 DMG Newsroom
21 January 2022, Manaung
More pigs have died of disease in Manaung Township, Arakan State, according to locals. The pigs died of diarrhoea and malnutrition, said Daw Ah Ngel Ma, an affected swine farmer in Theinkon village.
"Most pigs suffered from diarrhoea and loss of appetite. They died about four days later. About 10 pigs died in my village," she said.
Pigs in Manaung Township villages such as Nga Inn, Theingon, Khaohnmaw, Kontan, Kyunywa, Minpyin, Minseikpyin and Nyaungpinhla have died of apparent disease in recent days.
According to residents of Manaung Township, the swine deaths have also resulted in a loss of income for pig farmers.
The Livestock Breeding and Veterinary Department took blood samples from some of the dead pigs to test at a lab in an effort to determine the reason for their deaths, said an official from the township department.
"The cause of the disease has not been confirmed. There are three or four types of disease. For that, we sent blood samples of the dead pigs to the laboratory but the result is not yet known," the official added.
Daw Cho Cho, a pig farmer, said the death toll blamed on disease had reduced pork consumption and reduced pork prices. 
"In the past, pork prices were good. Now that there is a swine flu, there are no buyers and weddings no longer serve pork to guests. Pork is sold and eaten less in rural villages," she said.
Swine flu outbreaks in some Arakan State townships in December of last year have reportedly led to mass deaths.
Many pigs in Ponnagyun reportedly died after exhibiting symptoms such as lack of appetite, runny nose, constipation and an inability to pass urine. 
The recent spate of pig deaths in some Arakan State townships is due to an outbreak of porcine circovirus 2 (PCV-2), according to U Win Soe, assistant director of the state's Department Livestock Breeding and Veterinary, who cited lab test results.