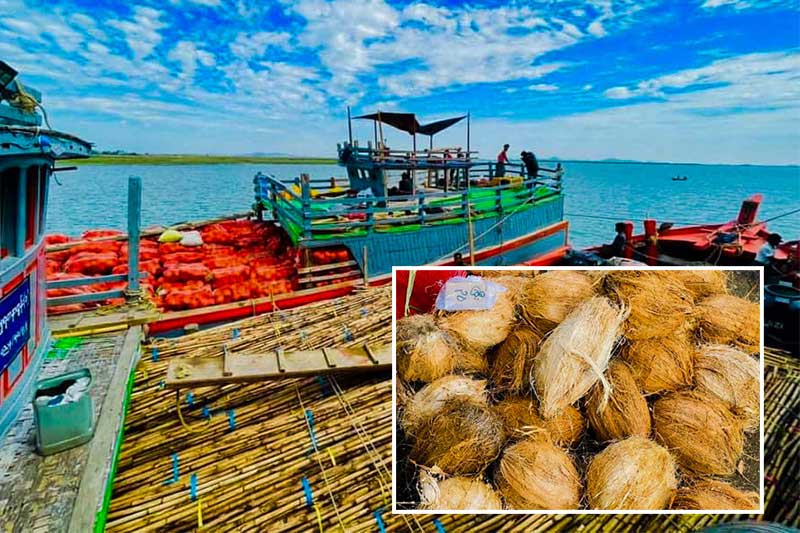 DMG Newsroom
26 January 2022, Thandwe
Coconuts from the Arakan State townships of Thandwe, Gwa and Manaung are being exported to Bangladesh via the Maungdaw and Sittwe border trade camps.
Ko Aung Aung, secretary of the Rakhine State Chamber of Commerce and Industry (RSCCI), said that coconuts from Arakan State have been exported to Bangladesh since earlier this month at a cost of K700 per coconut.
"Coconut plantation owners sell a coconut for K300. The trading price is K150, so a coconut is sold for about K450. A coconut is exported to Bangladesh for K700," he told DMG.
Coconuts exported from border trade posts in Arakan State are being bought for consumption, not for factory use in Bangladesh, he explained.
The price of coconuts has dropped sharply over the past year, according to traders.
"Now the coconut market is down. In addition, there are very few people who climb coconut trees. Because the coconut market is not selling well, there are fewer coconut farmers," Ko Htet Myint Ko, a resident of Manaung town, told DMG.
Similarly, there are fewer coconut traders in Thandwe Township these days, said Ko Myint Moe, a Thandwe resident. 
"There are only a few markets for coconut. And because of the high transportation costs, coconut growers are becoming increasingly scarce," he explained.
More than 40 tonnes of coconuts from Arakan State have been exported to Bangladesh, according to an official at the Maungdaw border trade camp.
In addition to coconuts, rattan from Arakan State is a significant export to Bangladesh via the border trade camps.