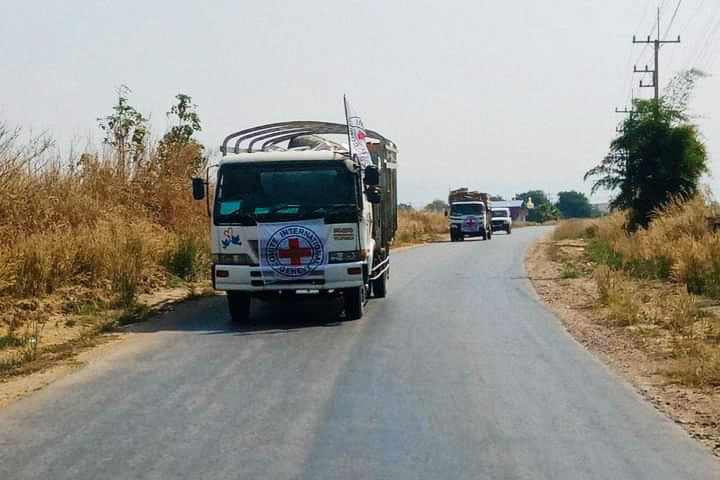 DMG Newsroom
27 January 2022, Yangon
Humanitarian aid workers say they face difficulty accessing internally displaced people (IDPs) in northwest and southeast Myanmar.
Clashes between junta forces and ethnic armed groups and/or People's Defence Forces continue in several parts of the country, sometimes including heavy weapons fire and airstrikes that have destroyed property and forced hundreds of thousands of civilians to flee their homes.
More than 400,000 people have been internally displaced since Myanmar's February 1 coup, according to the United Nations Refugee Agency (UNHCR), with "significant new displacement due to an alarming deterioration of the protection situation" over the past month.
The figures include 217,900 IDPs in southeast Myanmar: 91,400 in Kayah State, 42,600 in Shan State (South), 74,600 in Kayin State, 7,100 in Mon State, 1,600 in Tanintharyi Region and 600 in Bago Region, UNHCR said in an update published last week.
But aid workers have reported having relief supplies seized at junta checkpoints during trips to provide assistance to IDPs.
An official of the Karenni Assistance Network for IDPs told DMG that some aid workers have also been arrested on their way to visit IDPs.
"Junta forces are checking our supplies on the way to IDPs. If they see medicines, they seize them. About five aid workers have been arrested so far at Demoso police station [in Kayah State]," he said.
The network said it provides relief aid for Karenni IDPs in Shan State by connecting with local charity groups there.
"Regional dispensaries and hospitals are closed because of clashes with junta forces," said a doctor who is providing healthcare to IDPs and asked for anonymity. "So, hospitals are open in ethnic armed groups' territory with the available doctors and nurses to provide healthcare for IDPs. We need more medicines and healthcare personnel."
Travel to Loikaw and Shadaw townships in Kayah State is increasingly difficult and aid workers have demanded that they be allowed to provide humanitarian assistance at temporary IDP camps in the south of Shan State.
The International Committee of the Red Cross (ICRC) said it recently provided relief supplies for tens of thousands of IDPs south of Myawaddy town, in Kayin State, for the first time.
Maxime Zabaloueff, head of ICRC in Myanmar, said the committee wants to return with more material assistance for those who were not provided for this time.