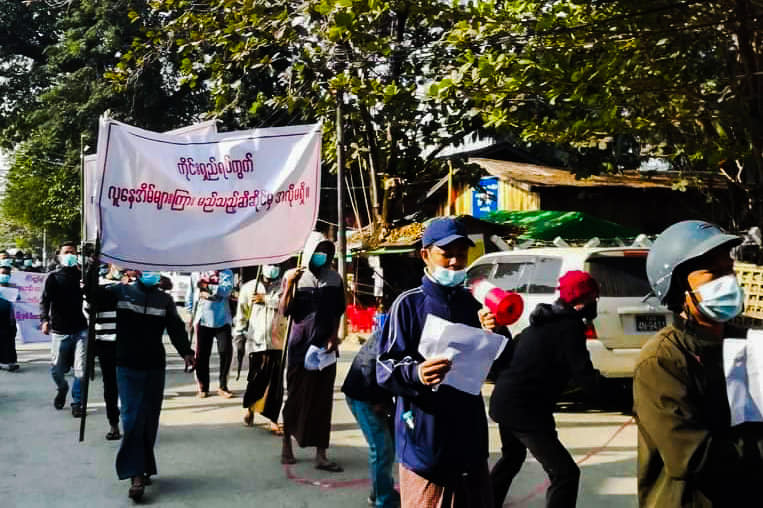 DMG Newsroom
30 January 2022, Taungup 
Residents of Kaing Shay ward in Taungup, Arakan State, staged a protest on Sunday morning against ongoing construction of a filling station in the residential area.
The petrol station, owned by U Tun Kywe from Taungup town, has been under construction since last year near the Ar Lein Ngar Hsint Pagoda in Kaing Shay ward, according to the protesters.
U Thaung Kyi, a resident of Kaing Shay ward, said although locals like himself had informed municipal authorities that they did not want the petrol station being built in their neighbourhood, those calls had gone unheeded.
"The petrol station is located in the downtown area and filling stations catch fire frequently," he said. "Filling stations should not be built in the downtown area. As a result, locals signed a petition calling for a halt to the construction of the petrol station, but to no avail. This is the reason why we staged a protest."
A fire that broke out in Taungup in 2012 burned down shops and houses in the town. Local authorities and town elders subsequently decided to relocate the petrol stations in downtown Taungup, putting a stop — at the time — to construction of petrol stations in local residential and municipal areas.
Exercising the authority granted to it under Section 17 of the Myanmar Fire Brigade Law, the Taungup Township fire brigade has reportedly restricted the storage and sale of fuel in the town.
Ko Thet Naing, a Taungup resident who took part in Sunday's demonstration, said the construction of a petrol station in a residential area was against the people's wishes as well as the law.
"The Fire Department has already banned the construction of petrol stations in residential areas due to the risk of fire," he told DMG.
There were two fires at filling stations in Taungup in recent years, according to locals. Protesters in Taungup say they will continue to push local authorities if construction of the petrol station continues as planned.