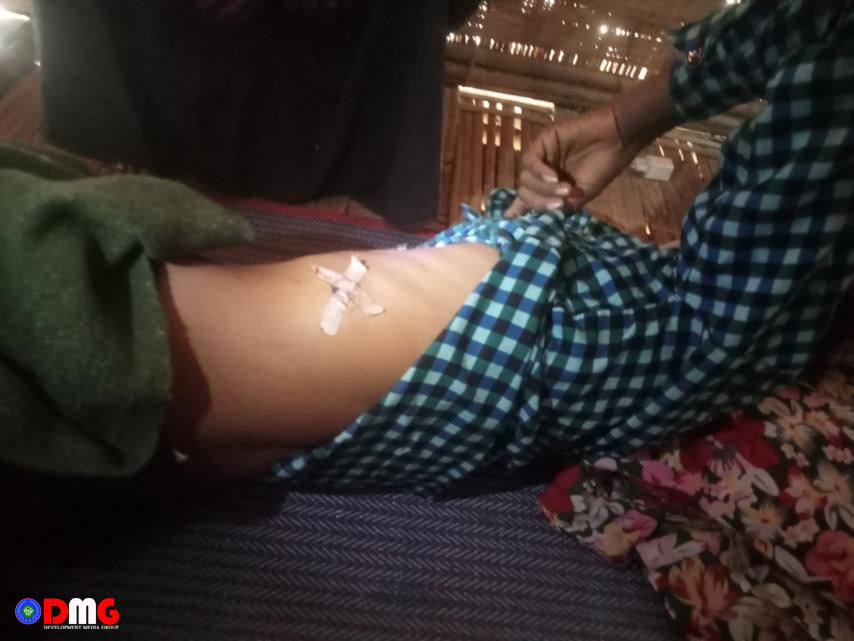 DMG Newsroom
2 February 2022, Mrauk-U 
Three teenagers were injured in a blast from an explosive remnant of war (ERW) outside Kyaung Taung village, in Arakan State's Mrauk-U Township, on Tuesday afternoon. 
Ko Hla Naing Than, 17, and 18-year-olds Ko Oo Lin Aung and Ko Soe Lin Tun reportedly sustained injuries while on their way to a hill near the village to collect firewood. 
"Seven people went to a hill near the village to collect firewood," U Maung Htwee Hla, the father of Ko Hla Naing Than, told DMG. "When the logs fell from the hill, they were hit by an artillery or a bomb and it exploded, injuring them. We are not worried about the two youths who sustained injuries to their arms. But Soe Lin Tun, who sustained injuries to his abdomen, is said to be in critical condition." 
"The victim's family makes a living working odd-jobs," said Ko Kyaw Thein Soe, a resident of Kyaung Taung village, referring to Ko Soe Lin Tun. "Ko Soe Lin Tun faces financial difficulty to receive medical treatment, so he cannot see a doctor." 
Locals say the mountainside where the ERW exploded was previously the scene of heavy fighting between the Myanmar military and the Arakan Army (AA). 
An ERW exploded in Paung Toke Ywa Thit (Palonetaw village) in Mrauk-U Township on January 17, injuring two 10-year-old Muslim children. 
Despite a cessation of hostilities in Arakan State in late 2020, ERW encounters continue to kill and maim civilians. 
The responsible organisations need to clear the remnant weapons of war, implored Ko Zaw Zaw Tun, secretary of the Rakhine Ethnics Congress (REC). 
"There may be a lot of unexploded ordnance left over from the fighting. At a time of stability, both the Myanmar military and Arakan Army need to coordinate and work hard to address the remnant weapons of war," he told DMG. 
The REC is among groups working on landmine risk education in several Arakan State townships.