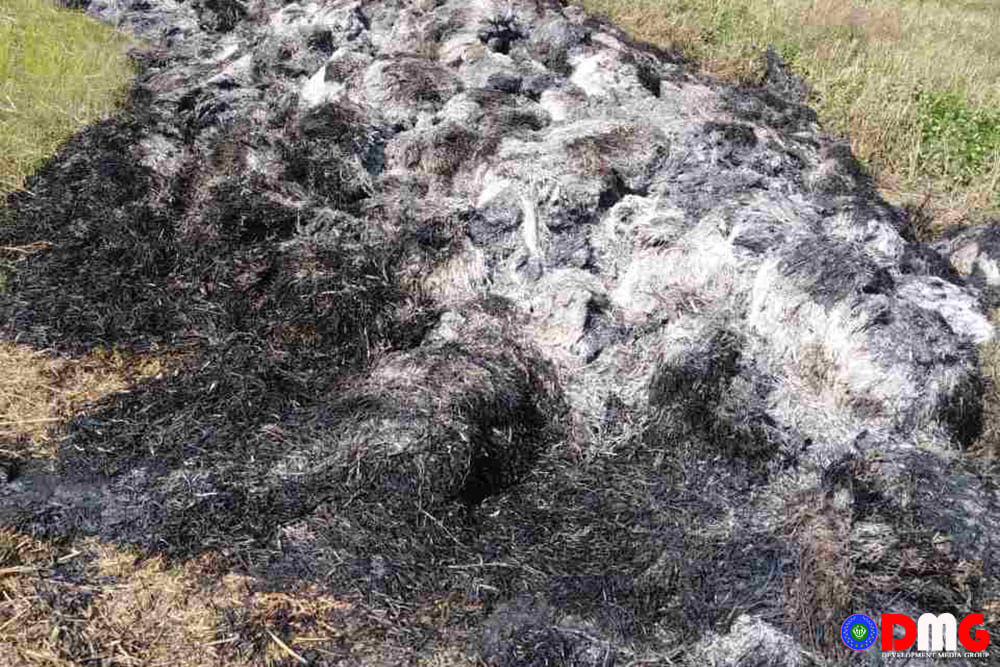 DMG Newsroom
5 March 2022, Sittwe
The United League of Arakan (ULA), the political wing of the Arakan Army (AA), said it is carefully handling a series of criminal cases in Arakan State that made headlines late last year, and which the ethnic armed group at the time characterised as a potential attempt to foment sectarian strife. 
In December, there were at least 10 reports of paddy harvesters and sheaves of paddy being set on fire, and cattle being attacked, in Arakan State. 
Investigations are ongoing and details cannot be revealed for the time being, said AA spokesman U Khaing Thukha during an online press conference held by the ethnic armed group on Saturday. 
"We are handling all those cases, and trying to find out who committed those crimes, and who was involved," he said. "We are not yet publicising our investigation results because we have not yet found out enough. But we can assure that we are systematically handling those cases, and we will reveal what we can very soon." 
In one of the cases, five cows in Mu Cha village, Mrauk-U Township, had their legs slashed, said cattle owner U Maung Saw Tun. 
"I have had to sell three cows, and the two others could be nursed back to health. But they can no longer work on farmland," U Maung Saw Tun told DMG. "I reported it to the AA immediately after my cattle were attacked. It has been three months, but they have not told me anything about progress in the investigation. I want them to identify the attackers as quickly as possible." 
In 2021, 1,846 crime reports and 1,992 civil complaints were filed with the judicial department of the ULA/AA, according to U Khaing Thukha. The ULA has so far handled 1,025 of the criminal cases and 875 of the civil variety, he said on Saturday.