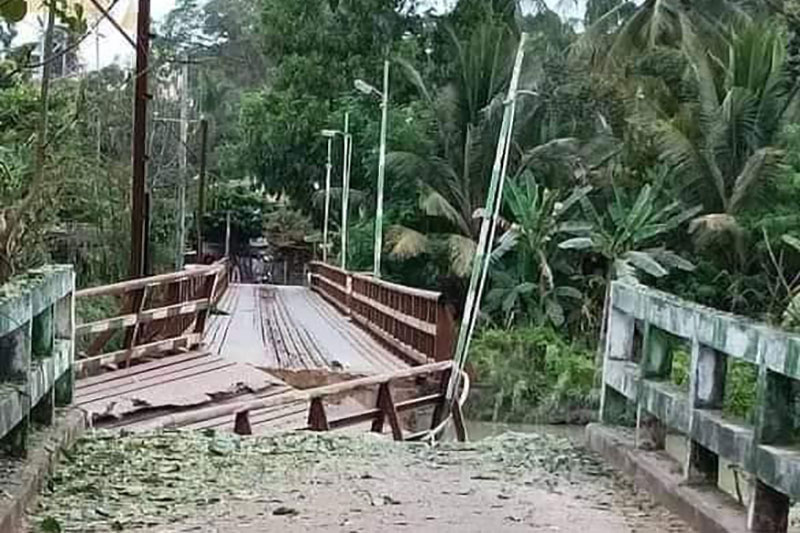 DMG Newsroom
28 March 2022, Kyaikto, Mon State

A bomb blast a week ago at the Kha Wah Creek Bridge in Sittoung town, Mon State, has caused travel delays, according to locals.

A resident of Sittoung town told DMG that the bridge, which was built by local villagers to facilitate travel between Sittoung and Kyaikto, Mon State, was destroyed on March 21.

"The bridge was built on a self-reliant basis on a village road leading to Kyaikto town from Sittoung. The bridge was blown up last week, making it difficult for locals to get around," the resident said.

The bridge in question was targeted with an explosive charge about 1 p.m. on March 21 and completely collapsed. No group has so far claimed responsibility for the attack.

At present, locals are trying to repair the damaged bridge and it may take some time, said a resident of Kyaikto town.

"Local people are trying to repair the bridge. We have already notified the Department of Rural Development of the bridge's bomb blast. I think it will take a long time to repair the bridge, but I don't know exactly," the Kyaikto resident added.

More than 2,000 locals remain displaced by clashes between Brigade 1 of the Karen National Liberation Army (KNLA), the armed wing of Karen National Union (KNU), and the Myanmar military in and around Kyaikto Township and villages near Sittoung town.