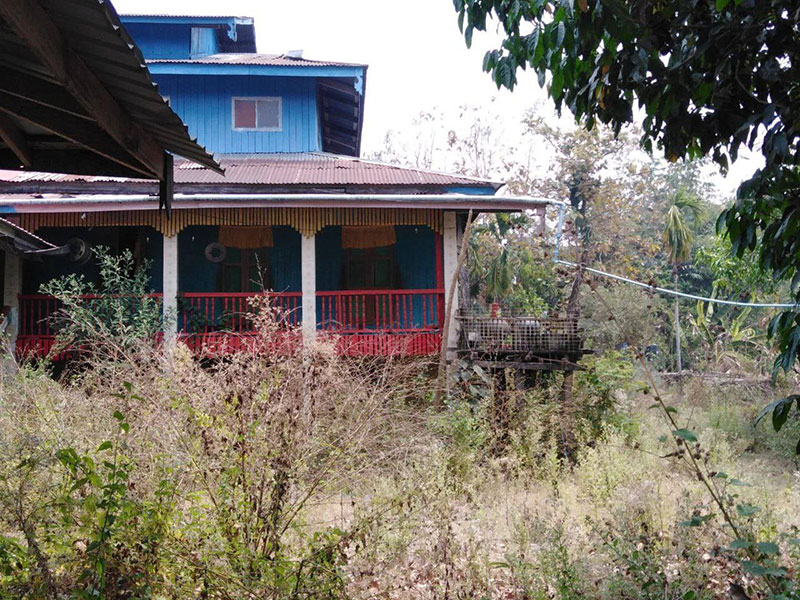 DMG Newsroom
3 May 2022, Kyauktaw 
Local villagers in Arakan State's Kyauktaw Township have demanded that action be taken to repair a monastery in Tinma village that was damaged by strong winds on April 20. 
The villagers on May 2 wrote a letter to Major General Htin Latt Oo, commander of the military's Western Command, asking those under his command to repair the ruined corrugated iron roof of the monastery, which is more than 100 years old and was damaged by the inclement weather last month. 
Some villagers have asked township-level officials to visit the monastery soon, saying its timber will rot in the coming rainy season if it is not repaired in time, according to Venerable U Wayamida, abbot of the Tinma village monastery. 
"We asked permission from the township-level officials to repair the damaged monastery and sent a letter to the commander of Western Command seeking approval. This monastery is more than 100 years old and needs to be renovated," he told DMG. 
In March 2020, Tinma village residents fled their homes amid clashes between the Myanmar military and Arakan Army (AA), with dozens of houses torched as the village was largely emptied of its inhabitants. Houses and the village monastery in Tinma have since become overgrown with brush as nature has reclaimed the uninhabited settlement. 
Tinma villagers have repeatedly asked the ruling military government for permission to return to their homes, but to date have not been allowed to do so. U Hla Thein, a spokesman for the Arakan State military council, has said it is not possible for the villagers to return to their homes currently due to the close proximity of Myanmar military and AA troops in the Tinma area. 
While they await approval for a coordinated, large-scale return, villagers said they had applied for permission to visit Tinma village to repair the damaged roof of the local monastery. 
"We met with township officials and asked for permission to renovate the monastery, but they refused. Officials say villagers will not be allowed to return to the village to repair the monastery for fear of exploding weapons [unexploded ordnance aka UXO]. Therefore, we have written to the state authorities, but so far we have not received a reply," said Ko Maung Thein Win, chairman of the Myat Dana Blood Donation Association in Tinma village. 
DMG attempted to contact Maj-Gen Htin Latt Oo of the Myanmar military's Western Command about the letter, but he could not be reached. 
DMG also phoned Arakan State Security and Border Affairs Minister Colonel Kyaw Thura for comment on the matter, but his personal staff officer (PSO) said the minister was busy. 
The Tinma villagers are currently living in camps for internally displaced people (IDPs) in Kyauktaw and elsewhere as they await government permission to return home.