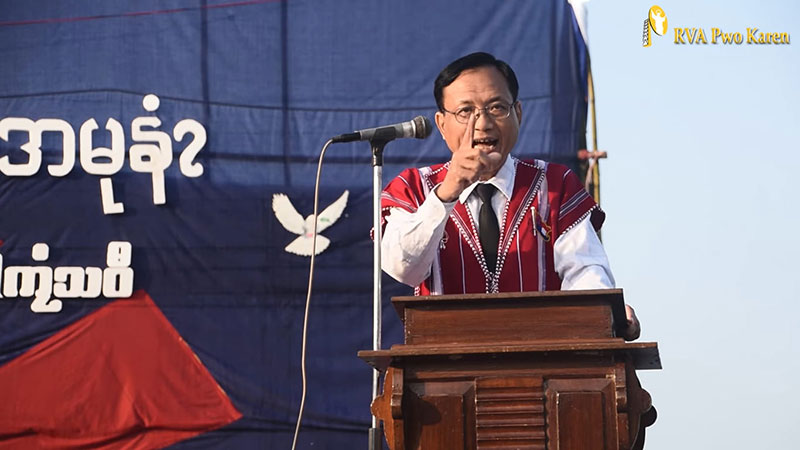 DMG Newsroom
10 May 2022, Sittwe  
The Karen National Union (KNU), Karenni National Progressive Party (KNPP) and the Chin National Front (CNF) issued a joint statement on May 9 urging Myanmar's military junta to include all stakeholders in its proposed peace dialogue if it is to find a solution to the country's political crisis. 
On April 22, military regime leader Senior-General Min Aung Hlaing made a speech in which he invited the leaders of Myannar's ethnic armed organisations (EAOs) to peace talks that he said he would personally attend, instructing them to register for the supposed privilege by May 9. 
Pado Saw Taw Ni, a spokesperson for the KNU, said that all parties need to work together when building a federal democratic union. 
"At the moment, we are just starting to work with like-minded groups as soon as possible. This joint statement carries that meaning," the KNU spokesman told DMG. 
The three EAOs call on the junta to immediately end its offensives on the ground and establish a meaningful dialogue with all stakeholders, their joint statement said. 
The military regime has said the National Unity Government (NUG) and its armed wing the People's Defence Force (PDF), which have been designated as terrorist groups, are not included in its invitation for peace talks. Critics have variously described the military junta's invitation to peace talks as hollow, politically expedient, and a sham, among other unflattering assessments. 
Five signatories of Myanmar's Nationwide Ceasefire Agreement (NCA) — the Democratic Karen Benevolent Army; KNU/KNLA – Peace Council; Pa-O National Liberation Organization; New Mon State Party; Arakan Liberation Party and Lahu Democratic Union — have reportedly agreed to attend the junta chief's peace confab.  
Non-signatories including the National Democratic Alliance Army (NDAA), Shan State Progressive Party (SSPP), and United Wa State Army (UWSA) have also reportedly said they would attend the talks. 
Among the EAOs that have declined to attend the peace talks are the KNU, CNF, and All Burma Students' Democratic Front (ABSDF) — all three NCA signatories — and the Kachin Independence Army (KIA) and the Karenni Army, both non-signatories.  
In an interview on Monday, Arakan Army (AA) spokesman U Khaing Thukha told the BBC that the Arakanese ethnic armed group is keeping an eye on the status of the regime's peace talks proffer. 
"When the military seized power, the military junta became an illegal organisation. As the military is an illegal organisation, it does not have the right to invite ethnic armed groups to such formal political talks. Such a political invitation is unacceptable at a time when the whole world is trying to not recognise the military regime at all," he said. 
At a press conference on April 27, regime spokesman Major-General Zaw Min Tun said 17 EAOs were likely to attend the peace talks.  
Min Aung Hlaing's call last month for face-to-face talks with EAO leaders came after more than a year of clashes with anti-regime resistance forces, many of which were formed in the aftermath of the 2021 coup under the umbrella PDF banner.