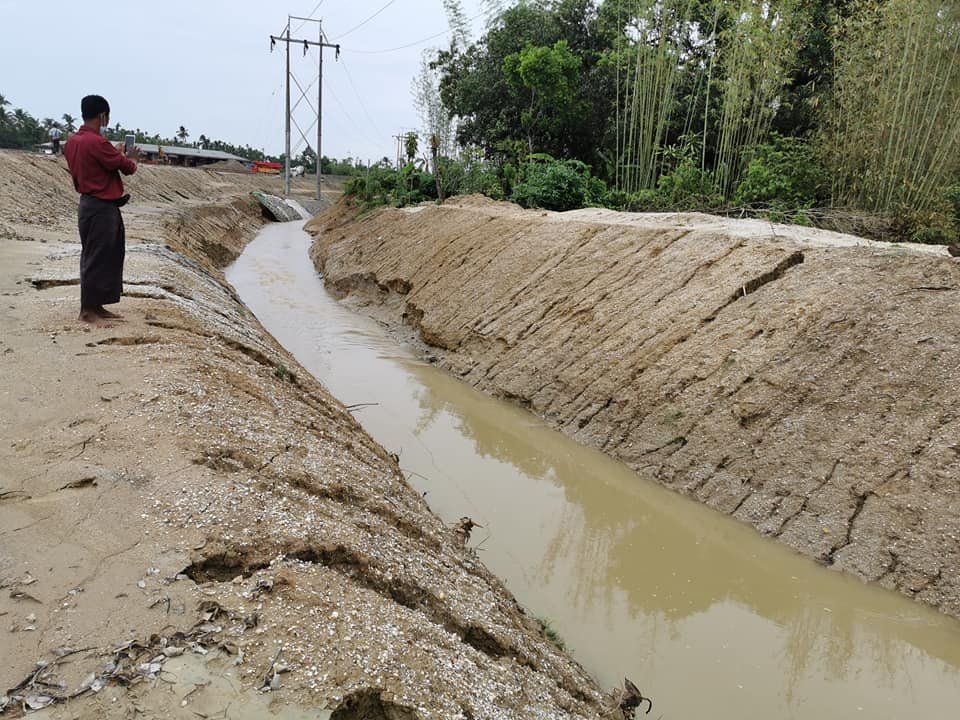 DMG Newsroom
12 May 2022, Manaung 
Locals in Kyaukphyu Township, Arakan State, are concerned about possible flooding in the rainy season after the bank of a diverted creek eroded recently due to rains. 
Power China Co. from China has been implementing a power plant in Konbaung and Kyauktin Seik villages in Kyaukphyu's Ohn Taw village-tract since November last year, and the course of a creek in the project was diverted. 
Locals are concerned that the creek will be blocked and flood the villages in the rainy season, said Ko Tun Saw of Ohn Taw village. 
"The rainy season has not yet even started, but the bank is already collapsing. The creek has become shallow. It is likely that the creek will overflow and our village will be flooded in the rainy season," he said. 
Locals are concerned that their farms will be damaged by floods in the rainy season. "This creek is a lifeblood for farmers. Farms upstream will always be submerged if the creek does not flow properly," said resident U Maung Hla. 
Kyaukphyu Township administrator U Myo Min Tun said the township General Administration Department is still investigating the causes of the erosion. 
Former Kyaukphyu Township lawmaker U Poe San wrote on his Facebook that he went to see the creek together with villagers and saw that the creek is in ruins. 
U Poe San said environmental and social impact assessments should have been conducted before initiating the project. 
Proper embankment has yet to be built for some remaining 300 metres along the course of the diverted creek. Locals said some parts of the retaining wall have been damaged by recent rains. 
The power project is due to be implemented over two years, with a 25-year contract to sell electricity to Myanmar. The plant sits on 59 acres of land.