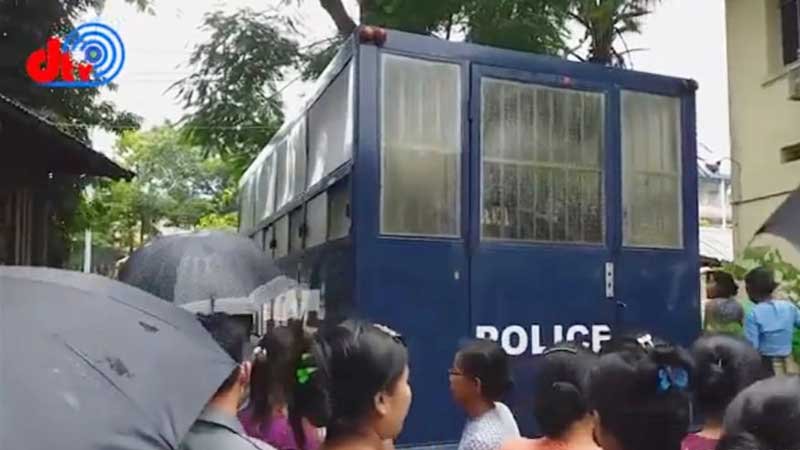 DMG Newsroom
12 May 2022,Sittwe 
Even as junta leader Senior-General Min Aung Hlaing invites Myanmar's ethnic armed organisations (EAOs) to renewed peace talks, the regime has stepped up its arrests of civilians on suspicion of having ties to the Arakan Army (AA) in recent months.  
Critics say the arrests pose a threat to that peace process, as Arakan State — since the military coup in February 2021 — has been a relatively stable region in a nation convulsed by anti-junta backlash to its putsch.  
"Those arrests cause public fear, cast doubts on and undermine trust in the peace process," said U Tun Aung Kyaw, who is on the policy steering committee of the Arakan National Party (ANP). 
Min Aung Hlaing on April 22 invited EAOs to engage in dialogue as the military regime sought to restart Myanmar's moribund peace process in the wake of its February 2021 coup. 
That same month, however, the regime arrested at least 40 Arakanese people in some villages on Haiggyi Island in Ngapudaw Township, Ayeyarwady Region, on suspicion of having ties to the AA. 
Some 15 detainees, including women and young people, were released on May 1, but others are reportedly still being detained at the regime's naval base on Haiggyi Island. DMG could not independently confirm those reports. 
Writer Wai Hun Aung said the regime is attempting to stoke fears anew by arresting people over their alleged ties to the AA. 
"They are making arrests firstly to instil fear in people again; secondly, to pressure the AA into joining peace talks. It can be interpreted as the regime will make detentions if the AA does not come to the table for talks," said Wai Hun Aung, who is a former political prisoner. 
Though the regime removed the Arakan Army from its list of officially designated terrorist organisations last year, its courts have continued to prosecute and hand down prison sentences to people for alleged ties to the AA, and the regime also continues to arrest people on suspicion of AA affiliation. 
"It is their [the regime's] routine to arrest and imprison those who have links to the AA," said political analyst U Than Soe Naing. "They will keep doing so for the time being." 
He added: "The AA and the regime do not have a binding agreement for peace. In my opinion, it is just a temporary understanding before another round of clashes. The regime will not only make arrests and prosecute people, but also re-launch attacks in Arakan State once they gain the upper hand [over anti-junta forces] in the mainland." 
Clashes in Arakan State between the military and Arakan Army ceased in November 2020, ahead of Myanmar's general election that month. There were few arrests of civilians for alleged AA ties last year. 
But the regime has stepped up arrests in recent weeks and months, with regime troops also inspecting villages and telling villagers to steer clear of the AA. The regime has also tightened security checks on roads, according to locals. 
"As our state has restored stability, our society tried to get back on its own feet despite various difficulties. I suspect the regime is doing such things in order to undermine stability and drag Arakan State into the civil war that is happening across the country," said U Oo Tun Win, a former Lower House lawmaker for Kyauktaw Township. 
DMG was unable to obtain comment from Arakan State Security and Border Affairs Colonel Kyaw Thura and junta spokesman Major General Zaw Min Tun regarding the regime's alleged provocations in Arakan State of late. 
During some two years of fighting in Arakan State from late 2018 to November 2020, more than 300 people were detained over their alleged ties to the AA, with about 200 of them having been prosecuted and sentenced to prison time. Scores more are still on trial, with many behind bars as they await court verdicts.