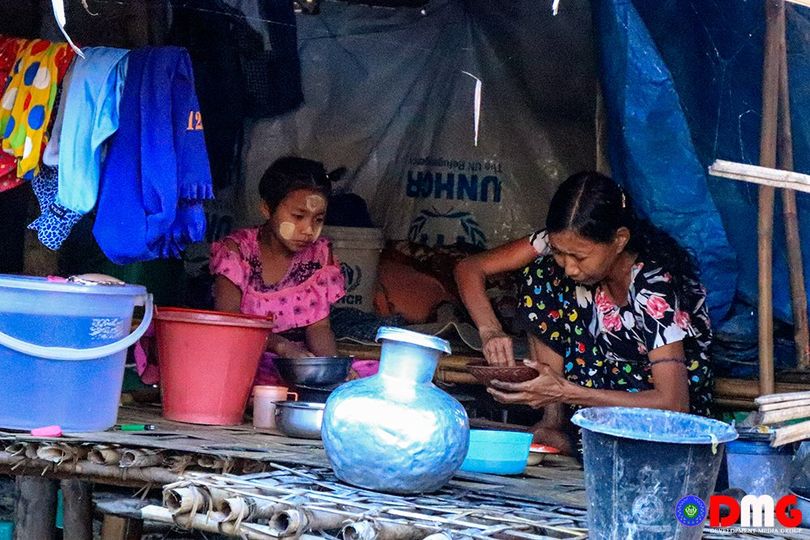 DMG Newsroom
17 May 2022, Sittwe 
The military regime's Ministry of Social Welfare, Relief, and Resettlement has resumed provision of rice to some camps for internally displaced people (IDPs) in Arakan State, but other camps have yet to receive supplies from the ministry. 
Government rice supplies to IDP camps were suspended some three months ago and partially resumed this month, but some IDP camps in Mrauk-U, Kyauktaw and Rathedaung townships have not yet received rice supplies since the restart. 
"It was enough for us when we were supplied with a sack of rice each from the social welfare ministry and International Committee of the Red Cross (ICRC). But we have difficulties now because we only get a sack of rice from the ICRC," said Daw Hla Aye Soe from Mya Tazaung IDP camp in Mrauk-U. "There are people who have gone hungry. Those who can't work have starved." 
IDPs from Tein Nyo displacement camp said they have not yet received rice supplies from the regime and still have to rely on rice provided by the ICRC, said U Soe Naing from the camp. 
"The situation will get worse in the rainy season if we don't get supplies from the ministry," he said. 
IDPs from displacement camps in Kyauktaw Township said they have not yet received rice supplies from the regime and called for the earliest possible resumption of provisioning. 
"We haven't received rice supplies since February. To us, food is more important than anything else. We have suffered from the war and subsequent hardships and we don't want to worry about food," said camp manager U Thaung Aye of Nyaungchaung IDP camp in Kyauktaw. 
When asked by DMG, the Mrauk-U District Social Welfare Department said it would supply 6,530 sacks of rice for Mrauk-U Township and 4,215 sacks of rice for Kyauktaw Township as of May 18. 
More than 200,000 people were displaced by the two years of fighting between Myanmar's military and the Arakan Army, and many have returned to their homes since the two sides reached an unofficial ceasefire in November 2020. 
But tens of thousands of people remain at IDP camps and are not yet able to go back home due to security risks, livelihood concerns, and in some cases because the regime has not allowed them to return to their villages.