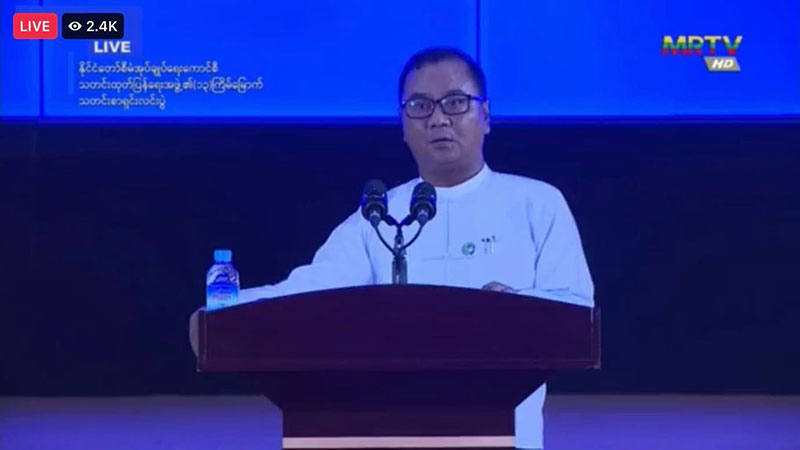 DMG Newsroom
19 May 2022, Sittwe 
Myanmar junta spokesman Major-General Zaw Min Tun has challenged the Arakan Army (AA), saying the armed group's recent statements seem intended to provoke a fight. 
Speaking at a regime press conference on Thursday, he asked the AA not to blame Myanmar's military if conflicts do arise in Arakan State and suffering among Arakanese people ensues. 
"We are exercising restraint because we don't want Arakanese people to get into trouble. I repeat: We are exercising restraint because we don't want Arakanese people to get into trouble. We are exercising patience and tolerance for the sake of the Union and peace," said the regime spokesman. 
"Lately, the AA's statements sound like provoking a fight, armed conflict. They are even threatening a regional commander," he added. 
On May 6, the AA chief Major-General Twan Mrat Naing tweeted remarks that were widely viewed as a warning to the military's western command, which oversees Arakan State operations. 
"Ko Htin Latt Oo, don't go too far. You have been irritating. I won't give a shit about peace [if you carry on]. I will come to your place and crush it," warned the AA chief, addressing the commander of the Myanmar military's Western Command. 
After two years of intense fighting, Myanmar's military and the AA observed an unofficial ceasefire in November 2020, ahead of general elections that month. 
The AA has since expanded a parallel administration in Arakan State, complete with a judiciary, revenue department, public security offices and other governmental institutions. Lately, the regime has visited villages in rural areas, asking people if they have ties to the AA. It has also detained a number of villagers over their alleged ties to the AA. 
On Sunday, the AA warned that clashes could take place at any time in Arakan State due to growing military tensions with the regime. The following day, the AA chief held a virtual meeting with officials of the civilian, anti-regime National Unity Government (NUG), and exchanged views on the latest political developments in Myanmar. 
Arakan Army sources have told media that the group would not attend the peace talks invited by junta chief Min Aung Hlaing.