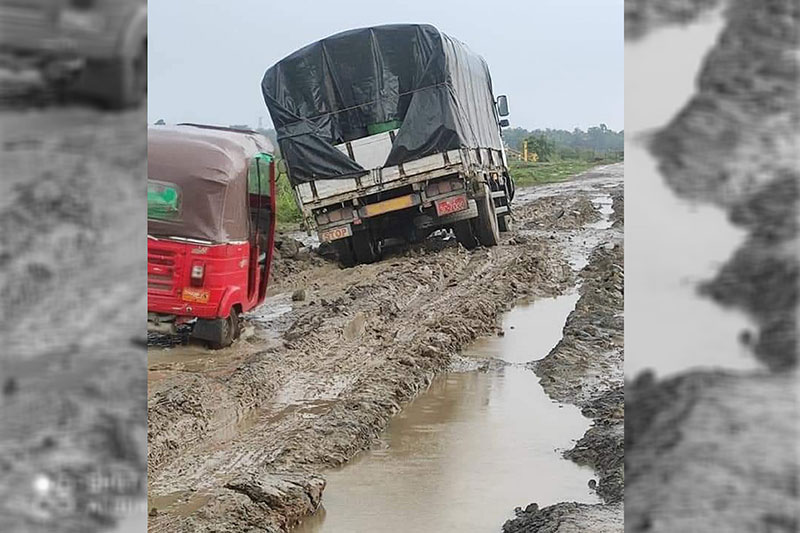 DMG Newsroom
28 May 2022,Maungdaw
Some parts of the Maungdaw-Ale Thankyaw road in Maungdaw Township have been badly damaged due to heavy rains in Arakan State over recent days, making it difficult for commuters to travel, according to truck drivers. 
One truck driver said a section of road about 500 feet in length near Khayaymyaing village was badly damaged and the tires fell off his vehicle. 
"It was as if the mud was pulling on the wheels along that road section. We are still afraid to go again," said the driver, who plies a route between Maungdaw, Ale Thankyaw and Angumaw. 
On May 27, about 30 trucks were bogged down on the muddy road, another truck driver said. 
"Trucks can overturn on the road section. Truck drivers get discouraged when they reach this muddy road section," the truck driver added. 
Traffic became snarled and some locals balked when large vehicles attempted to circumvent the worst stretches of the road using small roads through surrounding villages. 
"The villagers blocked the entrance of the village when trucks followed the passenger buses entering the village near the road," said a passenger bus driver. 
The main road from Maungdaw to Sittwe is also badly damaged and drivers are demanding immediate repairs. 
To ease their commutes, drivers of trucks and passenger buses want access to another route, the Maungdaw-3rd Mile-Angumaw road, but the road is currently closed due to a bridge under construction. 
DMG has attempted to contact officials from the Maungdaw Township Roads and Bridges Department regarding the damage to the Maungdaw-Ale Thankyaw road, but they could not be reached. The Maungdaw-Ale Thankyaw section is a 13-mile-long gravel road.