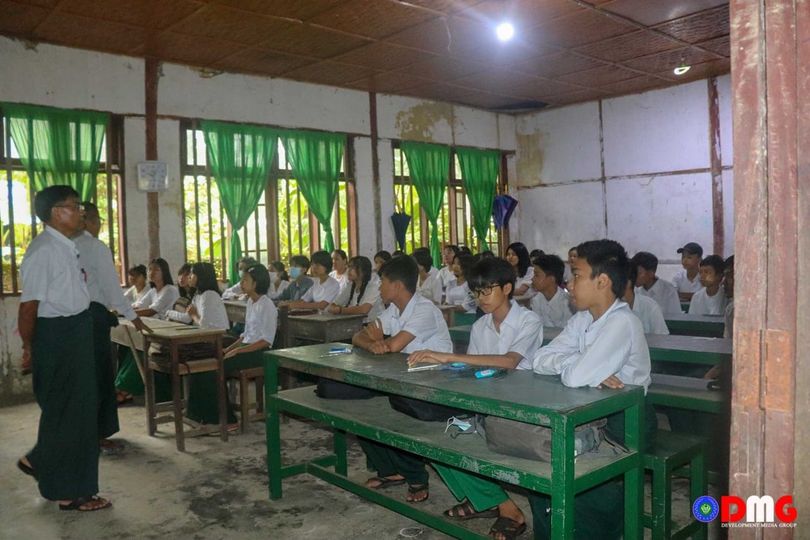 DMG Newsroom
3 June 2022, Sittwe  
Ethnic Kaman high school students in the Arakan State capital Sittwe still can't enrol for schools, according to a Kaman leader. 
Basic education schools opened on June 2 across Myanmar. In Arakan State, more than 3,000 schools were opened and over 400,000 students enrolled. 
On Thursday, students from Kaman villages in Sittwe who completed middle school education went to Basic Education High School No. 6, opened in the cantonment area of the state capital, but school authorities told them to wait, saying they had yet to talk to the head of the Arakan State Education Department, according to the secretary of the Kaman Nationalities Development Party, U Tin Hlaing Win. 
"They said they can't accept them for now, and have yet to report to upper-level authorities," he said. 
Basic Education High School No. 6 is located near Light Infantry Battalion No. 20, and the majority of students enrolled there are the children of military personnel. 
U Ba Htwe Sein, the head of the state Education Department, said he had not yet received a report about the enrollment of Kaman students. But he said the military might impose restrictions as the majority of students attending the school are children of military personnel. 
"Basic Education High School No. 6 is a school run by the military. It is managed by a major," he said. 
He suggested that Kaman students could go to the basic education high school in nearby Thekkelpyingon village. 
"Many high school teachers have been appointed to the Thekkelpyingon basic education high school," he added. 
Arakanese student activist Ko Kyaw Naing Htay said he viewed the rejection of Kaman students as an act of racial discrimination. 
"It is the regime's discrimination against our Arakanese tribe. There are many children of military personnel at the Basic Education High School No. 6. It appears that the principal is directly commanded by a major from the army. It is discrimination," he said. 
Ko Kyaw Naing Htay called on the Education Ministry to provide an explanation. 
"They are legal citizens by birthright. They are ethnic people. The Education Ministry must take responsibility," he said. 
Sittwe is home to some 4,000 Kaman people, and there are only a few hundred high school students, which is mainly because authorities have restricted their access to schooling, said U Tin Hlaing Win. 
"The Arakan State government must explain why Kaman are being discriminated against while other Muslim students in Arakan State can go to school, and if they have any pressures or policy regarding Kaman people," he said. "And we need to talk to the Union education minister of the State Administration Council, either in person or by letter."