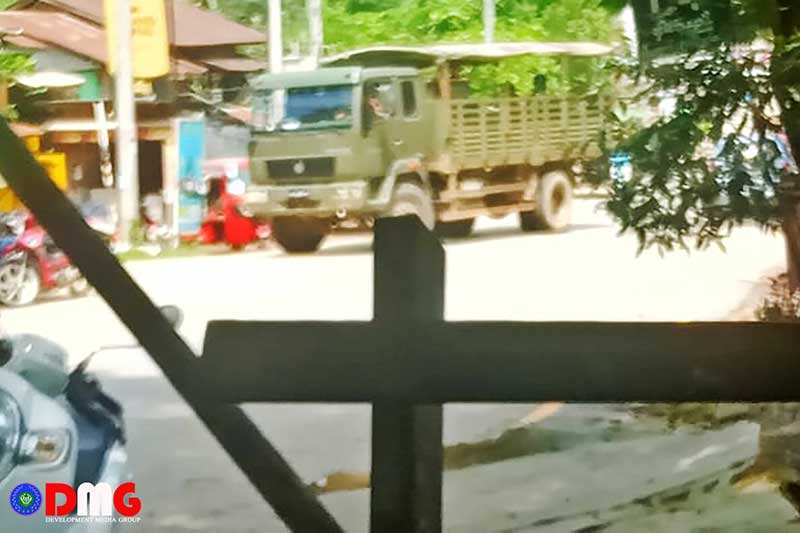 DMG Newsroom
22 June 2022, Mrauk-U

The Myanmar military has detained more than 20 residents including students in Mrauk-U since Monday night, after the Arakan Army (AA) detained three military intelligence officers in the town earlier Monday.

The Arakan Army arrested three members of the Myanmar military's intelligence in Mrauk-U's Shwegutaung ward on June 21, a resident said on condition of anonymity. Following that, around 60 junta soldiers in four military trucks entered downtown Mrauk-U and tightened security checks, the resident added.

The Myanmar military then abducted three members of a family from a restaurant in Nyaungbinzay ward on June 21, said an eyewitness.

DMG was unable to confirm the Arakan Army's detention of three members of the Myanmar military's intelligence and is currently attempting to contact U Khaing Thukha, spokesman for the ethnic armed group.

Following the reported detention of the junta officers, regime soldiers carried out checks in public places and detained residents with a prison transport vehicle, a Mrauk-U resident told DMG on condition of anonymity.

"From my home, I saw that they took a number of passers-by, including three children, on a prison transport vehicle near Alel Zay Market. They also abducted a student waiting for a bus to go to school in Sittwe. And they also imposed checks on students and detained people near the basic education high school," said the resident.

"Junta soldiers conducted interrogations of pedestrians and high school students in Alezay and Kyaukritkay wards in downtown Mrauk-U this morning. According to one of my close friends, three high school students were reportedly detained by junta soldiers," said another local resident.

It was not immediately clear where the detainees were taken.

"A Mrauk-U native who works as a bricklayer at [a construction site near] Maha Muni Pagoda has been released. Others are still behind bars," said the source.

Some schools were closed in Mrauk-U on Wednesday, and students from villages on the outskirts of Mrauk-U dared not go to schools in the town.

"Tensions are high in the town. Shops are open as normal, but there are few buyers. And residents from the outskirts of Mrauk-U also do not come to the town market. Students also do not go to school," said a Mrauk-U resident.

As streets were largely deserted in Mrauk-U on Wednesday, junta soldiers reportedly did not allow buses plying between Mrauk-U and Sittwe to leave the town.

U Pe Than, a veteran Arakanese politician and former member of parliament, told the media yesterday that the Myanmar military's arbitrary arrests of innocent civilians was "inappropriate".

Some social activists in Mrauk-U went into hiding due to Myanmar military's detention of civilians, a man who evaded the junta's net told DMG.

From January to June 22, the number of local people arrested by the Myanmar military in Arakan State and Paletwa Township, Chin State, has risen to about 100, according to figures compiled by DMG.