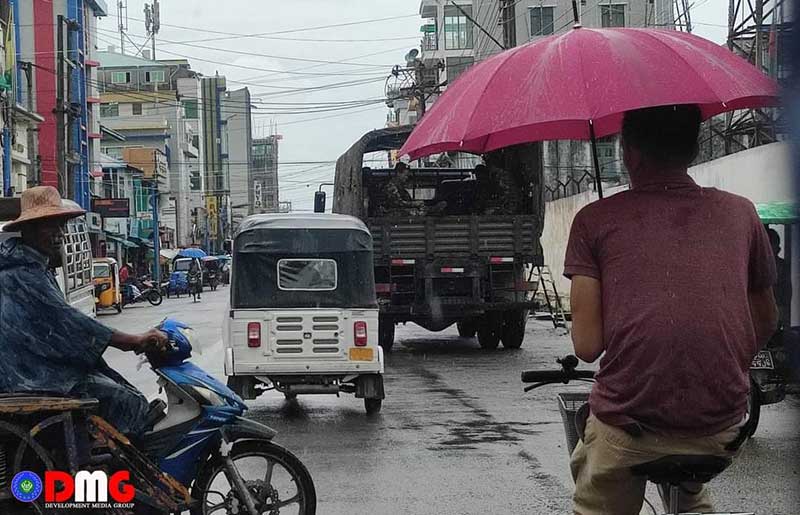 DMG Newsroom
23 June 2022, Sittwe

Myanmar regime security forces have been combing certain wards in Sittwe after the Arakan Army (AA) seized two junta soldiers, a captain and a private, on Thursday afternoon in the Arakan State capital.

The abductions were the latest in a series of arrests of junta personnel since early June. The two junta soldiers were seized separately. The captain from the Sittwe-based Battalion No. 354 was seized in Mingan ward, and the private was seized at a motorbike workshop in west Sanpya ward, where he was having his motorbike fixed, sources told DMG.

DMG saw large numbers of junta troops searching houses in west Sanpya ward following the abductions. The central market and schools were closed subsequently. Junta soldiers and police have carried out tight checks on passers-by at checkpoints at town entrances.

Locals are concerned about possible detentions as residents in Kyauktaw, Mrauk-U and Ponnagyun were also detained by regime security forces after AA arrests of junta soldiers and police.

Military tensions have been running high in Arakan State for months. Veteran Arakanese politician U Pe Than criticised that while the AA has seized junta soldiers and other security personnel, the regime has detained local civilians in apparent retaliation.

"A government can't do that. It has to be considerate to people. It has to stand by people. That is not what the regime is doing now," said U Pe Than. "They are arresting anyone on sight, on the pretext of alleged ties to the AA. They are doing so as a way of taking revenge, which is unacceptable. I don't think it will stop the AA from arresting [junta soldiers]."

The AA has detained at least 10 junta soldiers and police personnel this month, and the regime has detained dozens of civilians in Kyauktaw, Ponnagyun and Mrauk-U townships in response.