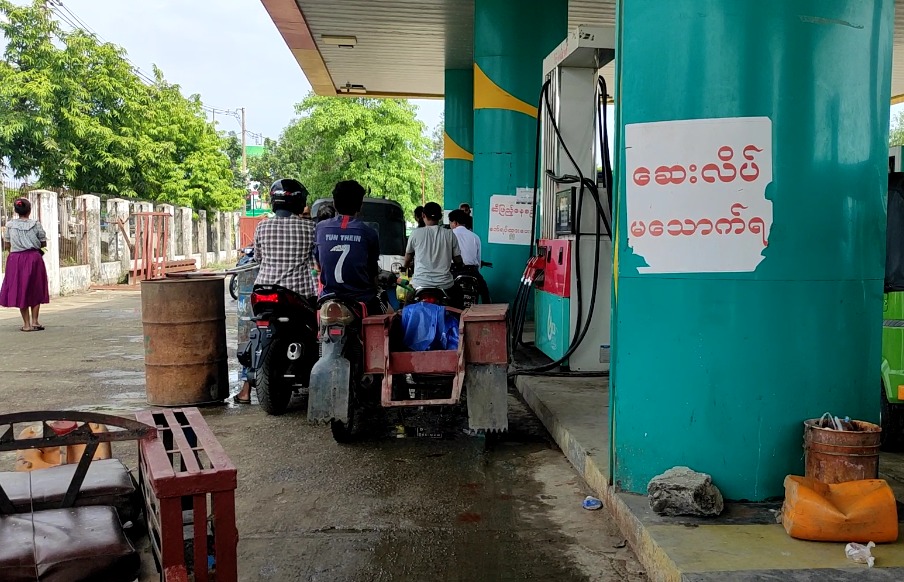 DMG Newsroom
25 June 2022, Sittwe

Diesel prices have risen sharply since the Myanmar military seized power, this week hitting around K500 more per litre than the price of petrol.

The soaring cost of diesel comes amid an overall surge in the prices of fuels over the past 17 months: On February 1, 2021, the price of premium diesel was only about K805 per litre, and now stands at around K2,800 per litre.

U Khin Maung Gyi, a veteran businessman, said the rise in diesel prices was attributable to the depreciation of Myanmar's currency — the kyat has weakened precipitously in the aftermath of last year's coup — and global fuel price hikes due to the Russia-Ukraine war.

"However, diesel prices are likely to rise further. And as it rises, transportation costs will suffer and commodity prices will rise. Stability is key to normalcy. If the country is peaceful, the economy will recover," he said.

Due to the rising price of diesel, some ferryboat services are losing money, and fuel efficiency measures are costing travellers extra time as well, said U San Maw Thein, manager of Shwe Pyi Tan ferryboat service.

"The ferryboat services suffer financial losses. The two-hour journey now takes about three hours because of fuel savings. We are running a ferryboat service for the convenience of the public," he told DMG.

Fishing businesses whose vessels run on diesel are also facing difficulties. Previously, the price of a barrel of diesel was K300,000, but now it is around K600,000, said fisherman U Thein Hlaing Chay.

"I have not been able to return home for two months because of rising oil prices and poor fish and prawn prices," he said.

Fishermen say they are also looking to reduce the number of motorised fishing trips out to sea due to rising diesel prices.

U Than Hlaing, chairman of the Arakan State Petroleum Entrepreneurs' Association, said fuel price imbalances in supplier Singapore were being passed on to Myanmar consumers.

"In Singapore, petrol fluctuated by only one US dollar and diesel by almost US$8. That is why the prices of diesel and [to a lesser extent] petrol are rising when they arrive in Myanmar," he explained.