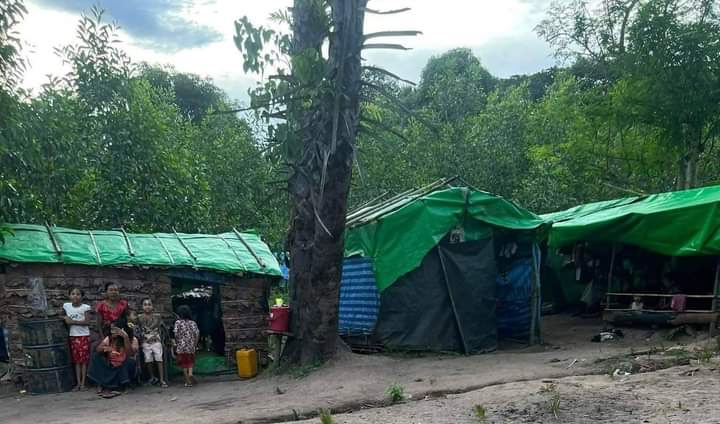 DMG Newsroom
25 June 2022, Myawaddy, Kayin State 
People displaced by fighting near the new town of Lay Kay Kaw in Myawaddy Township, Kayin (Karen) State, are currently in need of shelter and food, according to aid workers. 
Many of the internally displaced people (IDPs) have lost their jobs due to conflict between the Myanmar regime and a coalition of anti-junta forces led by the Karen National Liberation Army (KNLA), the armed wing of the Karen National Union (KNU). The IDPs are also facing difficulties to return home, said a migrant worker. 
"We lost our jobs and have been facing financial problems due to the military tensions. We are unable to return home as we have no ID cards, travel money, or health certificates," the migrant worker added. 
If they are fortunate enough to find gainful employment, migrant workers from Bago, Yangon, Ayeyarwady, Magway and Sagaing regions, as well as Mon State, earn a living as odd-job workers in Minletpan village, part of the Lay Kay Kaw area, and along the Myanmar-Thai border. 
Migrant workers were temporarily evacuated from the banks of the Thaungyin River to Minletpan village due to incessant rains last month near the Myanmar-Thai border, according to aid workers helping them. 
"Heavy rains in May caused floods and landslides along the Thaungyin River, forcing migrants to evacuate to a safer place," the aid worker told DMG. 
Fighting between junta troops and the KNLA coalition has flared with some regularity in Kayin State since December 2021, displacing thousands of people to the Thai border area.