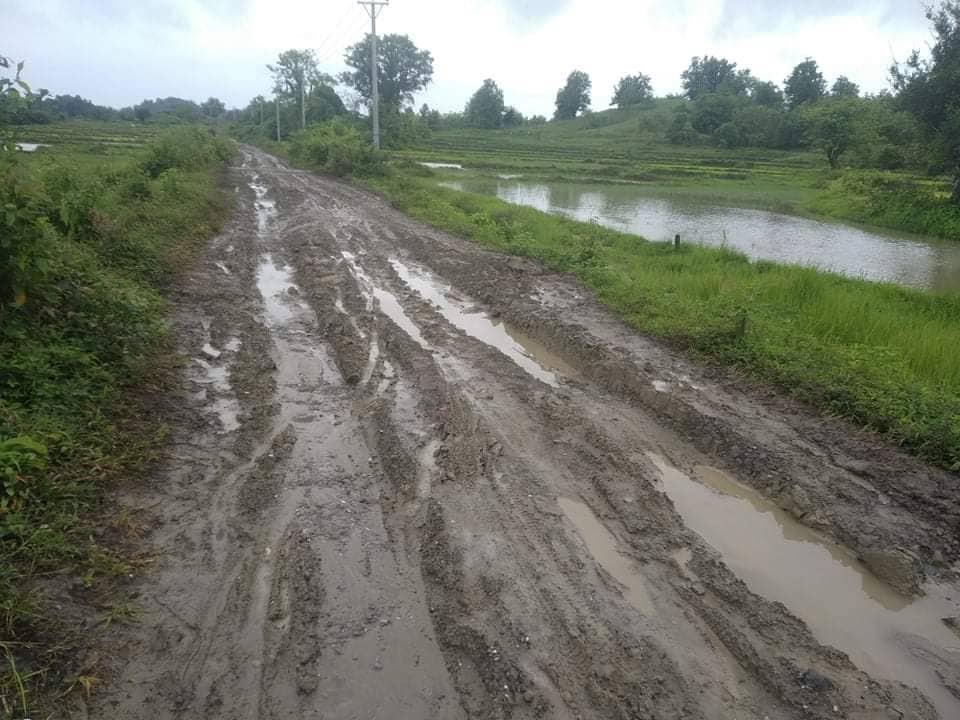 DMG Newsroom
11 July 2022, Kyaukphyu

Residents in Arakan State's Kyaukphyu Township have called on authorities to repair as soon as possible the Kyaukphyu-Yenandwein road, a crucial trunk road for 21 villages in the township.
The road is so badly damaged and scarred by rainwater-filled potholes that many motorbikes and four-wheeled vehicles can no longer use it, according to residents who say their day-to-day lives are being negatively affected.
"The road is used by more than 20 villages from two village-tracts. If someone from those villages needs urgent medical treatment, they have to use this road [to go to the hospital]. The road is also crucial for other matters," said the administrator of Min Yet village-tract.
Residents are suffering both social and economic impacts, said Sin Tin villager Daw Hla Win Kyi.
"On some parts of the road, there are big potholes that are knee deep. Some parts of the road are submerged. The mud is thick, and there is no way motorbikes and vehicles can use it," said Daw Hla Win Kyi.
Three passenger buses run on the road, which is also used by local residents to sell their agricultural produce in Kyaukphyu town. Locals have called for upgrading the road to a facility that can be used in all seasons.
The road is more than 10 miles long, and was originally built in 2015 as a gravel facility linking Kyauk Kalay village, via the Kyaukphyu-Yangon road, with Yenandwein village in Min Yet village-tract. The road was extended to Nga Lone Su village-tract from Yenandwin as an earthen road in 2018.
Residents say that these days, only the gravel section is usable during the rainy season.
"The road is only usable until Yenandwin village. The earthen road is submerged and can't be used," said Wetsu villager U Maung Than Shwe.
The road is especially damaged by torrents from the mountains, and creeks that overflow onto the road, he said.
When asked by DMG about the road, Kyaukphyu Township administrator U Myo Min Htut said: "I have reported to higher-level authorities to repair the road. However, I don't know when the budget will be granted."
For the time being, locals who can afford it have to charter motorboats for health emergencies, but those who lack the monetary means are left with few other options.