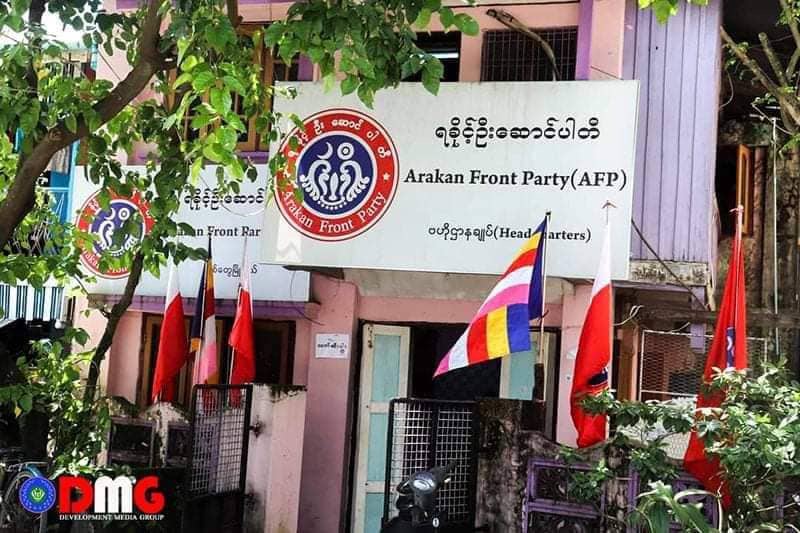 DMG Newsroom
11 July 2022, Sittwe 
The Arakan Front Party (AFP) released a statement on Monday urging the Myanmar military and the Arakan Army to take problem-solving approaches to deescalate ongoing tensions between the two sides. 
The statement is the party's second in less than two weeks urging the two armies to avoid a return to armed conflict in Arakan State.  
The AFP released the first statement on July 2, following a visit from ASEAN Special Envoy to Myanmar Prak Sokhonn, in which the party asked the special envoy to mediate between the two sides and help bring them to the table for dialogue. 
AFP spokesman U Kyaw Zaw Oo said the party's sentiment was reflective of the will of Arakanese people, who do not want to see a return to war in Arakan State. For the Myanmar military and the Arakan Army to achieve permanent stability and peace, a political agreement is a pre-condition, he added. 
"We also need intermediaries that will help mediate between the two sides. Previously, that role was played by [Japan's special convoy for national reconciliation in Myanmar] Sasakawa and so on. We will need intermediaries like that," U Kyaw Zaw Oo said. 
The statement said a return to war would seriously affect the livelihoods of local farmers and food security in Arakan State, as now is the beginning of monsoon paddy cultivation in Arakan State. The AFP, which is led by the veteran Arakanese politician Dr. Aye Maung, also called on the two sides to release their detainees to defuse tensions.  
"The two sides must stop the arrests now to ease tensions. The regime can drop lawsuits against its detainees, and can also release those who have been convicted. The two sides must free their detainees," said U Kyaw Zaw Oo. 
Last month, more than 50 residents were detained by the regime in Sittwe, Ponnagyun, Kyauktaw and Mrauk-U townships following AA abductions of junta personnel. Some 18 civilians have been released, but around 18 others have been prosecuted under charges that carry potentially lengthy prison terms.  
Two Sittwe residents were sentenced to one month in prison for being unable to satisfactorily explain their presence on the streets of the Arakan State capital at night.
The Myanmar military and the AA have largely observed an unofficial ceasefire since November 2020, after two years of often-intense fighting. But Arakan State is said to be edging ever closer to a return to war, with military tensions running high in the region for months now.