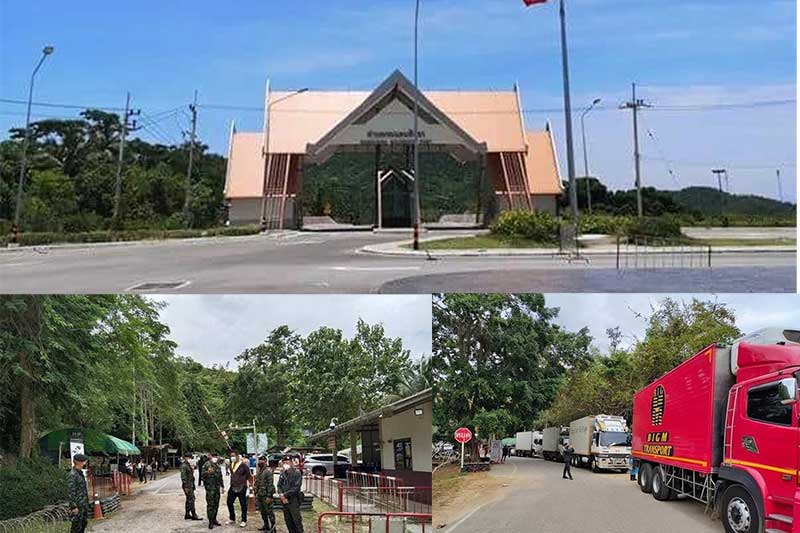 DMG Newsroom
3 August 2022, Tanintharyi

Myanmar-Thai border trade has resumed through the Maw Daung border crossing in Tanintharyi Township, Tanintharyi Region, as the border crossing was reopened for transnational commerce on Tuesday, according to officials.

The border crossing had been closed since April due to the Covid-19 pandemic and clashes near Tanintharyi Township. The crossing was reopened on August 2 following negotiations between authorities on both sides of the border.

"The border gate had to be closed due to escalating fighting. The gate reopens today," confirmed an official at the gate on Tuesday.

However, Thai authorities have only opened the border crossing for certain commodities, and not for people from Myanmar to pass through.

"People are not yet allowed to cross the border there. It is reopened only for Myanmar to export limited commodities. However, they will relax it over time," said an official.

In accordance with Covid-19 protocols, Thai businesspeople making exports and imports are required to submit their invoices and packing lists to the Prachuap Khiri Khan Province governor's office one business day prior to transportation.

Furthermore, only one driver per cargo truck is allowed to cross the border into Thailand, and drivers are required by Thai authorities to wear personal protective equipment including gloves and masks.

"We don't complain about the Covid-19 rules. However, it is not OK for us that cargo trucks have to queue for their turn to get into the Thai side of the border. Some goods are perishable goods. They can decay if they sit too long," said a local merchant from Tanintharyi.

The border crossing will be only open on a limited basis, from 8 a.m. to 4 p.m. local time, Monday to Saturday.