Myanmar junta denies fatally shooting students in Paletwa Twsp
Myanmar's military regime has denied Arakan Army (AA) accusations that it fired upon a school ferryboat this week, killing two students.
04 Aug 2022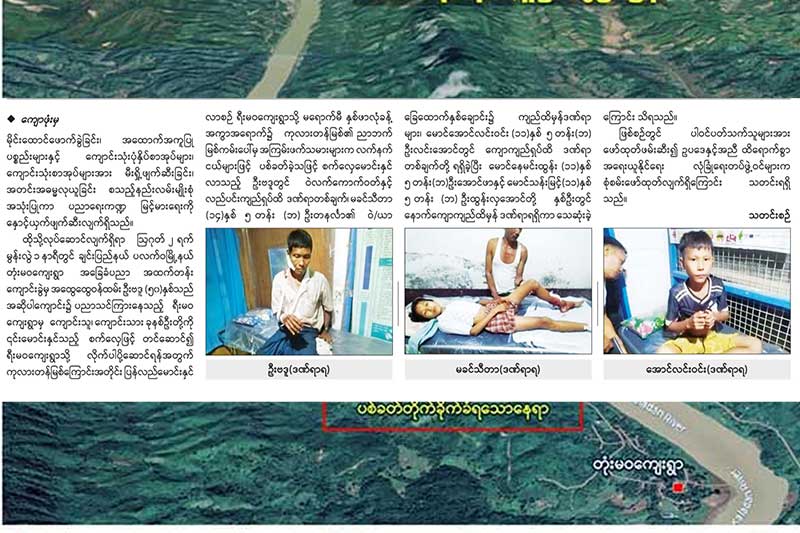 DMG Newsroom
4 August 2022, Paletwa, Chin State

Myanmar's military regime has denied Arakan Army (AA) accusations that it fired upon a school ferryboat this week, killing two students.

The AA said junta troops stationed at a pagoda in Namada village opened fire without reason on the ferryboat, which was transporting students back to their homes from the school they attend in neighbouring Tone Ma Wa village on Tuesday.

Two male students, both aged 12 and from Yemawa village, died immediately, while some other students and the 56-year-old school watchman aboard the boat were injured in the shooting, according to an AA statement.

But via state-run media, Myanmar's military regime on Thursday denied the fatal shooting, which was reported by local organisations and residents in addition to the Arakan Army.

The August 4 issue of the junta-controlled Myanma Alin newspaper reported that "the boat carrying seven students from Yemawa village and general worker U Badu of the basic education high school in Tone Ma Wa village was shot by terrorists with small arms from the bank on the right side of the Kaladan River, some two miles from Yemawa, at around 1 p.m. on August 2."

The newspaper claimed that the attack was carried out by the People's Defence Forces (PDFs), armed anti-regime groups affiliated with Myanmar's parallel National Unity Government (NUG).

"Such acts rob the youths of their rights to education and opportunities for learning and [PDFs] are instilling fear in students, teachers and parents to pressure them into supporting them [PDFs], and are disrupting and destroying promotion of the education sector," reads the junta statement.

Two male students, both of them 11-year-old 5th graders, died from gunshot wounds in their backs, while a 14-year-old female student, an 11-year-old male student and U Badu were injured, said the regime.

Paletwa residents said they were shot from the direction of a pagoda compound in Namada village where junta soldiers are stationed.

In a statement on Wednesday, the Interim Khumi Affairs Coordination Council condemned the fatal shooting as an inhumane and cruel act, alleging that the regime was responsible for the killings.

U Myat Tun, director of the Arakan State Human Rights Defenders and Promoters Association, said: "As the regime has found itself in a tight corner both on the mainland and in Arakan State, it continues to commit violence. The regime is committing war crimes by shooting people at random, and killing people cruelly."

Military tensions have been running high in Paletwa Township, with the Myanmar military and Arakan Army reportedly engaged in intermittent clashes for three consecutive days this week.