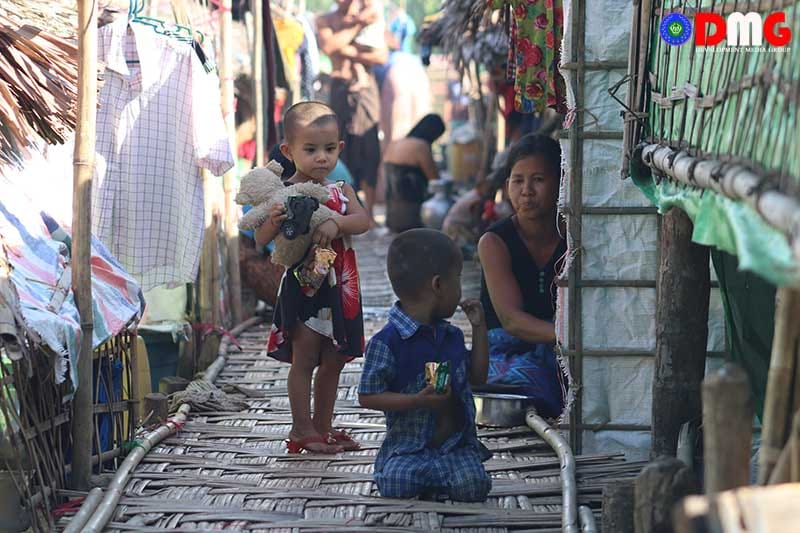 DMG Newsroom
4 August 2022, Sittwe 
The United Nations Office for the Coordination of Humanitarian Affairs (UNOCHA) in Myanmar has warned of limitations in providing assistance to those who have fled their homes due to fighting between the military and anti-regime armed groups in the country. 
"During the reporting period, fighting continued between the Myanmar Armed Forces (MAF), People's Defence Forces (PDF) and Ethnic Armed Organizations (EAOs) in different parts of the country, further exacerbating the protection and humanitarian situations," UNOCHA said in its weekly humanitarian update for Asia on August 2. 
"Humanitarian access to affected people across the Southeast, including IDPs, remains very challenging, and movement of essential goods, including food and medicine, has been restricted," the UN agency added. "In Rakhine [Arakan State], rising tensions between the MAF and the Arakan Army (AA) have prompted new displacement in northern Rakhine and access to affected people is heavily constrained." 
The junta-controlled Department of Disaster Management had been providing rice to some displacement camps in Arakan State that are no longer receiving the aid regularly. IDPs have not received any food provisions from the department in recent months and have had to borrow rice from others, said U Than Htay, the manager of one such displacement camp. 
"The government has not provided food to the IDPs for three months. The World Food Programme (WFP) provides K18,000 monthly to each IDP at the camp, but the cash assistance is not enough for them," he added. 
Local and international nongovernmental organisations (NGOs), meanwhile, were allowed on July 28 to once again supply relief aid to villages in northern Arakan State's Maungdaw Township, but the military regime imposed a limit on the amount of supplies permitted. The NGOs were only permitted to supply 10 days' worth of supplies, though the limited allowance was an improvement over about two weeks in which the junta heavily restricted NGOs' travel in the state's north. 
Locals in northern Maungdaw Township suffered food shortages due to the regime's travel restrictions on humanitarian relief providers, which were reportedly prompted by escalating military tensions and recent clashes between the Myanmar military and Arakan Army. 
DMG's phone calls to Arakan State military council spokesman U Hla Thein, seeking comment on the regime's humanitarian aid policies, went unanswered. 
Myanmar's humanitarian situation is also dire at the national level, UNOCHA emphasised in its statement this week. 
"Nationwide, as of 25 July, more than 1.2 million people remain displaced, including more than 866,000 IDPs displaced by conflict and insecurity since the 2021 military takeover and some 346,000 people who remain displaced as a result of previous conflicts, the majority of whom are in Rakhine [Arakan State]," the UN agency said.