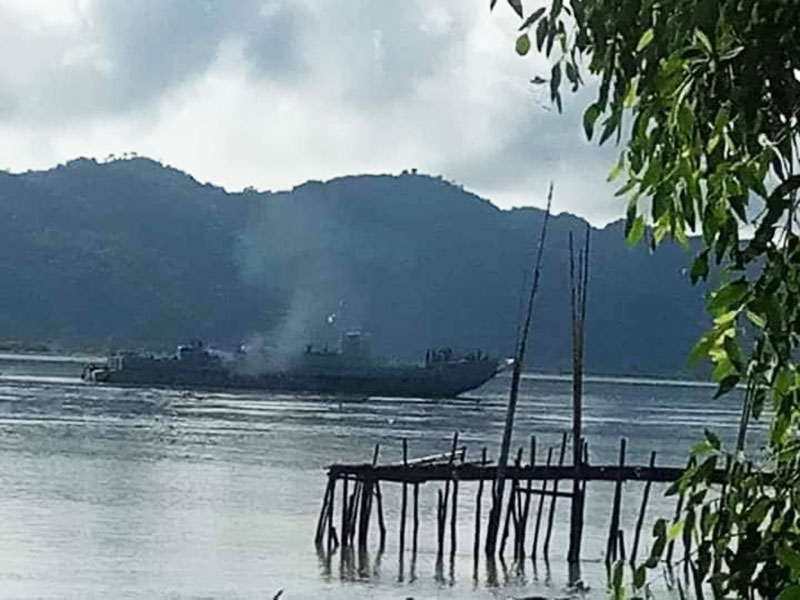 DMG Newsroom
16 September 2022, Taungup 
The Arakan Army (AA) attacked a support ship belonging to the Myanmar military with heavy weapons in Arakan State's Taungup Township at around 2 p.m. on Friday, according to local people. 
AA members opened fire from a hilltop position, targeting the support vessel as it made its way toward a new jetty in Taungup and leading to an exchange of gunfire, an eyewitness said. 
"There are two hills near the scene of the clash. Some AA members opened heavy weapons fire from a hill and some AA combatants fired small arms at the ship simultaneously. The scene of fighting is about three furlongs from the location where we were working. The ship sank due to the AA's attack," the eyewitness told DMG. 
The ship was delivering food to junta soldiers, according to a source close to the Myanmar military's Taungup-based Light Infantry Battalion No. 346. 
"The ship was reportedly transporting food for the Myanmar military and sank after being fired upon by the AA. The military carried out a rescue operation for the sunken ship," the source added. 
A large number of junta soldiers are currently stationed near the jetty and military trucks can be seen in downtown Taungup, another unnamed resident said. 
"Some military trucks were heading to the location where the ship was attacked. A lot of junta soldiers are stationed near the jetty and the entire town is now silent," the resident added. 
DMG was unable to obtain comment from Major-General Zaw Min Tun, a spokesperson for the regime. 
The AA has begun imposing checks on vehicles and vessels in Arakan State, said AA spokesman U Khaing Thukha on September 14, alleging that Myanmar's military regime has been bringing in reinforcements by both public and private means of transport. 
The AA spokesman said the regime has been sending reinforcements and weapons to its bases in Arakan State not only with military ships, trucks and helicopters, but also via passenger planes, express buses, motorboats and express ferries. 
The AA has also instructed bus and ferry boat lines to report to its offices regarding their schedules, warning that if any problems occur, those travelling without reporting as stipulated will be held responsible.