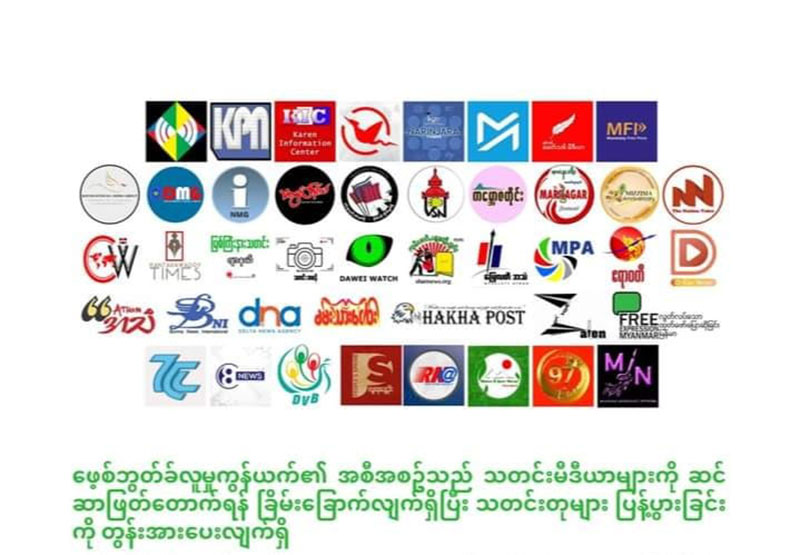 DMG Newsroom
22 September 2022, Sittwe

Forty-three Myanmar media agencies and organisations advocating for press freedom released a joint statement on Thursday urging Facebook's parent company not to introduce a modified form of its "News Feed" feature in Myanmar, saying it would be detrimental to the country's information ecosystem.

The statement says the planned change to Facebook News Feeds, reportedly to be introduced soon in Myanmar, threatens the right to information, freedom of expression and human rights including press freedom, while contributing to self-censorship and the spread of fake news.

Veteran journalist U Myint Kyaw said: "Facebook has announced that it will reduce political content in News Feeds, saying a survey of Facebook users showed users want politics to take up less space in their feeds."

"Myanmar's information ecosystem is not similar to the democratic countries in which Facebook tested its modified News Feed," the 43 organisations said in their joint statement.

"Facebook's earlier plan to be 'the internet' in Myanmar succeeded, and the company's dominance has only grown since the military forced public life online by banning independent broadcasters, print media, and their websites, and shutting down public squares," the statement continued. "People in democratic countries may go to television, radio, newspapers, public squares, and websites for public affairs content, but Myanmar people do not have this choice."

Facebook's decision to reduce political content will deprive Myanmar people of their right to information, said U Myint Kyaw.

"In Myanmar, people mainly use Facebook to read the news. That's why media agencies have called for reconsidering its [Facebook's] decision," he added.

News agencies including DMG, Narinjara, Myanmar Now, The Irrawaddy, DVB, Mizzima, the independent media umbrella organisation Burma News International (BNI) and several other ethnic media outlets signed the joint statement.

"Facebook has also revealed that its proposed News Feed modification specifically reduces the 'traffic' of 'publishers' such as media outlets, which has had a disastrous effect elsewhere," the statement explained.

"This reduction of 'traffic' (number of views) is the digital equivalent of hindering newspaper printing and is therefore an act of censorship," the signatories contend. "Modifying the algorithm in a manner that knowingly reduces media content in News Feeds is a violation of the right to freedom of expression and media freedom as well as an existential threat to media outlets that rely on Facebook audiences."

The 43 media groups also sent their statement to Meta CEO Mark Zuckerberg, urging the Facebook parent company to reconsider its decision to introduce the changes to its Myanmar-based News Feeds.