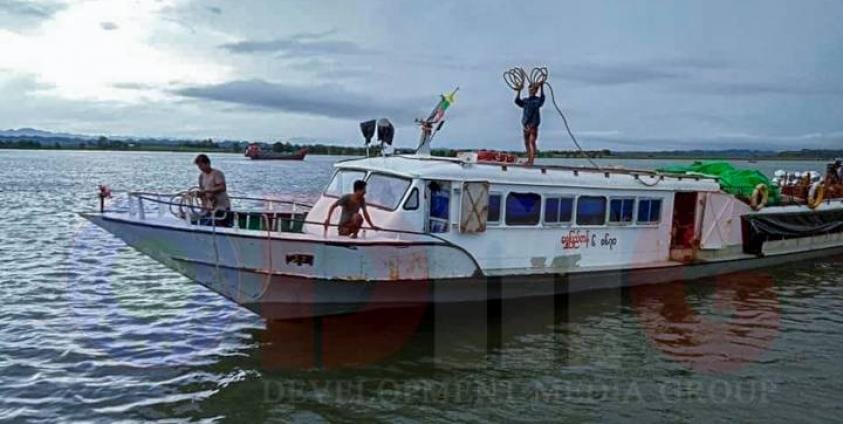 DMG Newsroom
1 October 2022, Sittwe

The Shwe Pyi Tan ferryboat service, which runs the largest water transportation network in Arakan State, is still barred from operating in the state's north after being ordered by the Inland Water Transport department to suspend operations on September 15.

Currently, Shwe Pyi Tan is only allowed to operate the Sittwe-Pauktaw and Sittwe-Kyaukphyu-Ramree-Taungup-Manaung routes.

"We are not yet allowed to run ferries to Rathedaung, Buthidaung, Mrauk-U and Minbya," U San Maw Thein, manager of the Shwe Pyi Tan ferryboat service, told DMG. "[Authorities] told us at a meeting that it is for the sake of safety, because of the current military situation. They didn't tell me how long we would have to suspend our operations."

The operator is not yet allowed to resume running its Sittwe-Minbya, Sittwe-Mrauk-U and Sittwe-Rathedaung-Buthidaung routes.

The suspension of services is causing major inconveniences for locals, as it is more expensive to travel by road and there are many security checkpoints along the roads in Arakan State these days, said a Minbya resident.

"It only costs us 8,000 kyats per person to travel from Sittwe to Minbya by Shwe Pyi Tan boat. But it cost me 18,000 kyats to travel from Minbya to Sittwe because Shwe Pyi Tan is not operating now. And taking a boat is much more comfortable than travelling by car," he told DMG.

With a group of distance learners finishing their exams at Sittwe University on Saturday, some of the students from Rathedaung, Buthidaung, Maungdaw and Mrauk-U townships will struggle to return home due to the ongoing suspension of Shwe Pyi Tan's services in northern Arakan State.

"As Shwe Pyi Tan has suspended operations on the Sittwe-Rathedaung route, I will have to take a cargo vessel from another village [to return to my village]," said third-year distance learner Ko Anaw from Zeya Myaing Village in Rathedaung. "But even then, it may not reach my village. The Shwe Pyi Tan ferry reaches a village that is a few minutes' boat ride to my village. But if I take the cargo vessel, I am not sure if I can hire a motorboat from there, and it will also cost more."
DMG was unable to obtain comment from Assistant Director U Khin Maung of the Arakan State Inland Water Transport department.

Myanmar's military regime has also imposed tight checks on road and water travellers in Arakan State following rising military tensions between the junta and the Arakan Army.