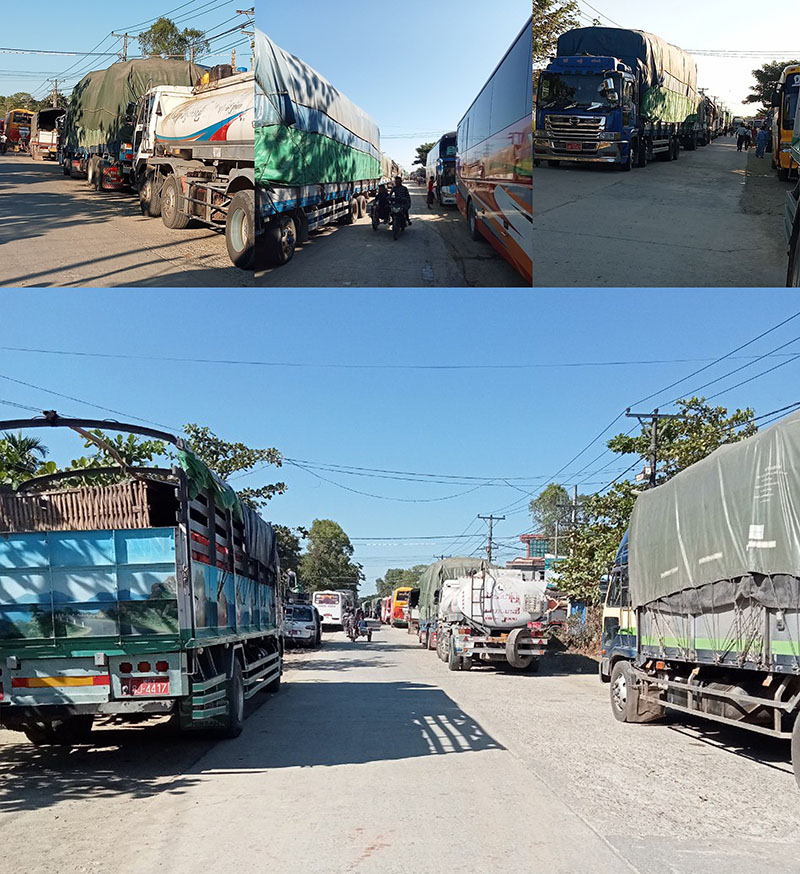 DMG Newsroom
11 November 2022, Ponnagyun 
Some 200 vehicles including passenger buses are pinned down in Ponnagyun Township due to ongoing military tensions between the Myanmar military and the Arakan Army (AA), according to locals. 
They have been trapped since around 7 a.m. on Thursday, DMG was able to report on Friday afternoon. "They were stopped at the central police station in Ponnagyun," said a Ponnagyun resident who runs a roadside stall. 
Some small passenger vehicles have turned back in face of the blockade, but cargo trucks are still waiting as they might suffer heavy losses if they return from whence they came, said a cargo truck driver who was heading to Sittwe from Yangon. 
"I am carrying more than 5 million kyats worth of perishables. Some of them might go bad, if we can't leave today. Some vehicles have turned back, but it is not OK for us. We dare not ask junta soldiers to let us pass. We are afraid we might be shot," he said. 
Passenger buses are also waiting as it is not convenient for them to turn back, and some passengers who did not bring extra money are going hungry, said a passenger bus driver. 
"We came from Yangon, and people from other townships have already disembarked. Only people heading to Sittwe are left on the bus. Some only brought enough money for the travel, and they are going hungry as they had to stay overnight on the road. It does not appear that vehicles will be allowed to leave today. Junta soldiers did not check passengers, but only blocked the road," he said. 
The blockade comes after the Arakan Army (AA) ambushed a junta vehicle with mines between Padetha and Hsininngyi villages in Ponnagyun Township on Thursday. Civilian casualties were reported in nearby villages in subsequent junta attacks.