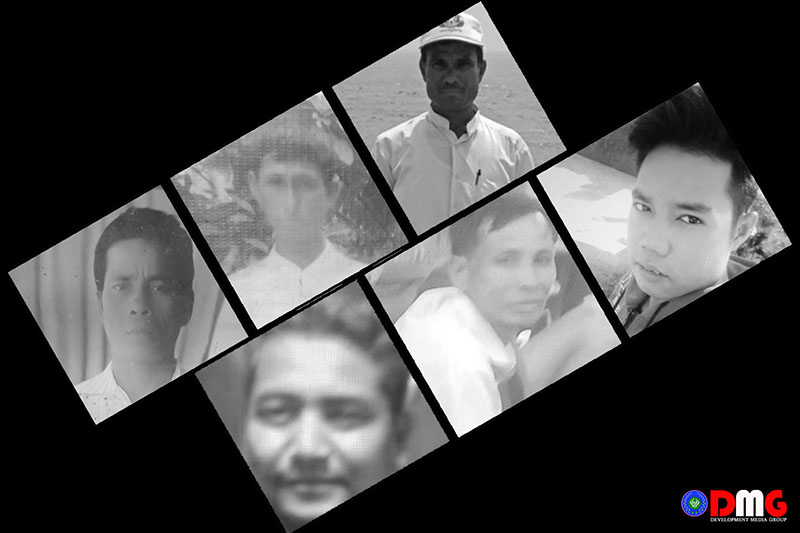 DMG Newsroom
23 November 2022, Ponnagyun 
Eight men from two villages in Arakan State's Ponnagyun Township, who had been detained by the military for more than a week, were reportedly released at about 4 p.m. on November 21. 
The men have been identified as U Maung Win Kyaing, 56; U Maung Thein, 51; U Oo Maung Thein, 48; U Geordi Aung, 50; U Oo Maung Thein, 48; Maung Han Tin Win; Maung Nay Htet Lin; and Maung Maung Han Win, all from Tankhoe Village; and U Tun Hla Aye, 46, from neighbouring Kywhtoe Village. 
Regime troops from a Myanmar Navy vessel at the mouth of a creek near Tankhoe entered the village on November 12 and abducted the seven residents of Tankhoe Village and U Tun Hla Aye of Kywhtoe Village, taking them to a naval base at Shwe Min Gan Port in Sittwe.  
"They [junta soldiers] covered our faces with clothes and took us to a naval base in Sittwe," said one of the detained men. "We were then transferred to the military's Light Infantry Battalion No. 539 for questioning. We were interrogated by junta soldiers as to whether we have any connections with the Arakan Army. We were released at around 4 p.m. [on November 21] and sent to an administrator of Kyetkaingtan Village. We spent one night there [in Kyetkaingtan Village]." 
Another detainee alleged maltreatment in military custody. 
"We were separately interrogated at a military regiment. Our faces were covered with clothes, so we saw nothing. First, I was beaten and asked whether I have ties to the AA or not. On the second day, my mobile phone was checked," he said. 
"We were forced to sign a bond promising no more links with the Arakan Army. We are pleased with the military's release," one of the men said. 
Meanwhile, three elderly male residents of Kyaw Zan Village, Ponnagyun Township, who went missing while fleeing a junta raid on their village on November 12, were released from the military's Ponnagyun-based LIB No. 550 on November 18. 
Some 7,000 residents from several villages in Ponnagyun Township have recently fled their homes due to junta raids and artillery strikes.