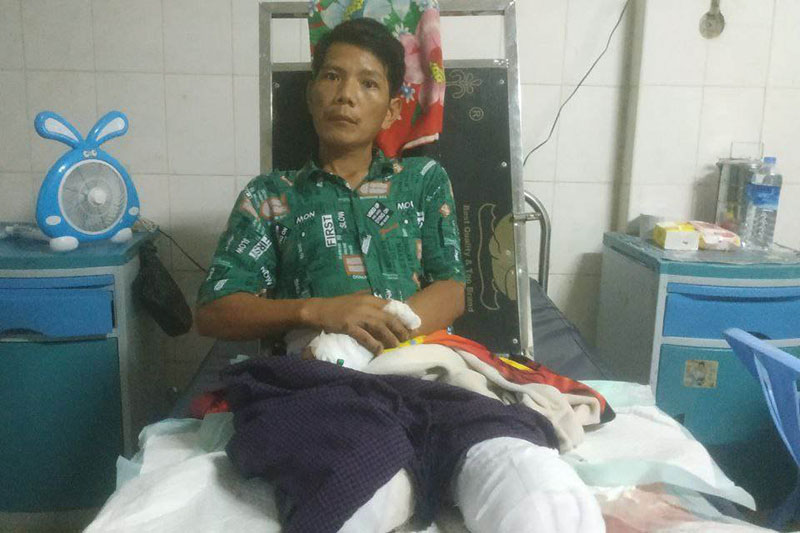 DMG Newsroom
26 November 2022, Paletwa, Chin State

A resident of Chin State's Paletwa Township who lost the use of both his legs in a landmine blast earlier this month is struggling to afford follow-up treatment.

U Maung Maung Yoe, 37, a resident of Samee town in Paletwa Township, Chin State, stepped on a landmine while walking to a hill outside the town on November 19. He lost his right limb in the blast and his left leg was also severely wounded.

Junta troops were temporarily stationed near the hill one month ago, according to local residents.

"That day, some 19 villagers went to the Su Taung Hill to clear the path up the hill," said U Maung Maung Yoe's brother-in-law, U Aung Min. "He was walking at the front, and he lost his right leg after stepping on the mine, and his left leg was seriously injured."

U Maung Maung Yoe was admitted to Paletwa Township Hospital, where he spent a night before being transferred to Kyauktaw Hospital and then to Sittwe Hospital.

It cost U Maung Maung Yoe's family nearly 1.2 million kyats to travel from their village to Sittwe Hospital, said U Aung Min.

"We can't afford to come to Sittwe. We borrowed money from our neighbours. It cost us 1.15 million kyats to come from Samee to Sittwe," he said.

U Maung Maung Yoe, who made a living farming to support his family of six, has not yet received any financial assistance from the government or social organisations, according to relatives.

Paletwa Township, which borders Arakan State, has suffered from renewed fighting between the Myanmar military and Arakan Army (AA), and local residents face dangers from landmines and unexploded ordnance as a result of the hostilities.

"We have concerns after the mine blast at the hill," a resident of Bonewa Village in Paletwa Township told DMG. "So, we dare not go to the forests, and we have trouble earning our livelihoods."

A man from Paletwa Township's Ngapwee Village lost his right leg in a landmine blast on September 9, and a resident of Seemawa Village, Paletwa Township, also lost a leg in a landmine encounter earlier that month. A woman from Paletwa Township's Abaungthar Village died after stepping on a landmine on August 24.