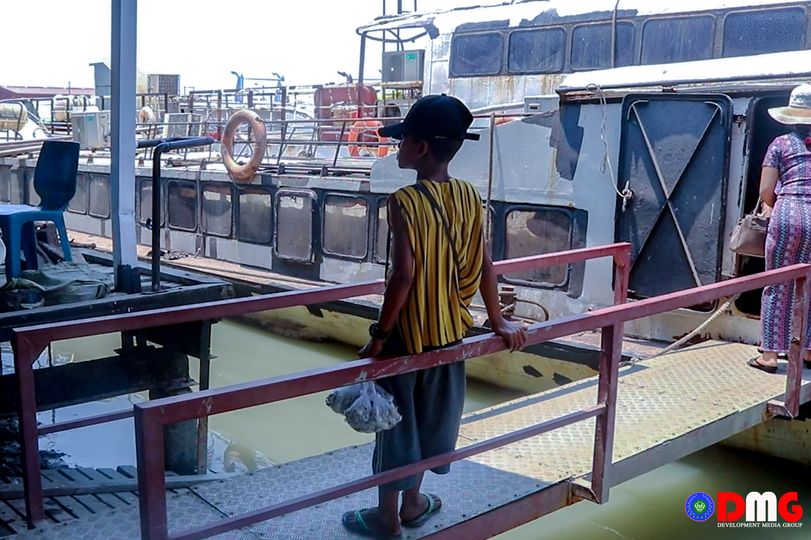 DMG Newsroom
26 November 2022, Sittwe

Arakan State residents whose livelihoods depend on sea transport are struggling to make ends meet due to junta travel restrictions imposed amid ongoing conflict between the Myanmar military and Arakan Army (AA).

The Shwe Pyi Tan ferry boat service, which operates an extensive network of sea transport options in Arakan State, has been forced to halt its operations linking Sittwe to outlying destinations including Minbya, Mrauk-U, Rathedaung and Buthidaung since mid-September, at the order of the junta-controlled Inland Water Transport department. Shwe Pyi Tan was subsequently instructed, on October 19, to suspend its Sittwe-Pauktaw operations until further notice.

More than two months since the initial ban, hundreds of people including vendors, hawkers, autorickshaw drivers, and porters whose livelihoods are dependent on Shwe Pyi Tan's ferry boats are struggling to make ends meet.

Ko Aye Tun, a vendor at the jetty of Shwe Pyi Tan ferry boat service in Sittwe, said: "Previously around K40,000 to K50,00 worth of goods were sold in one morning as ferry boats operated to all the destinations. But now, only K5,000 to K10,000 worth of goods are sold per day. As food prices have increased, that amount is not OK."

Shwe Pyi Tan still runs routes linking Sittwe with Manaung, Taungup, Ramree and Kyaukphyu townships every Sunday, Tuesday and Friday.

Some vendors, however, have shut down their stalls as there are much fewer customers in recent months.

"We rely on Shwe Pyi Tan," said another vendor at the Shwe Pyi Tan jetty in Sittwe. "We rely on each other. Business is so bad that we are now even struggling to avoid going hungry."

Shwe Pyi Tan has asked authorities to allow it to resume operations on the suspended routes, but there has been no response yet, said the express boat service's manager, U San Maw Thein.

U Khin Maung, assistant director of the Arakan State department of Inland Water Transport, told DMG to ask the Arakan State Administration Council (ASAC) about when the ban on sea transport would be lifted in northern Arakan State. DMG's calls to ASAC spokesman U Hla Thein went unanswered.

It has been around four months since renewed fighting broke out between the Myanmar military and Arakan Army in Arakan State.