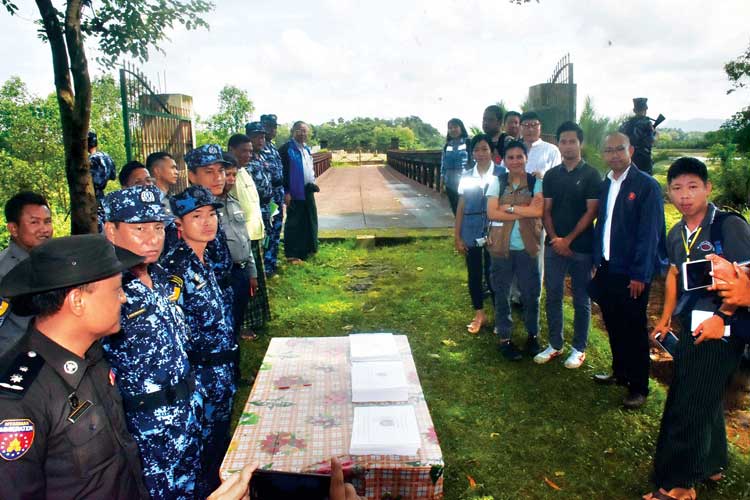 Cha Lu Aung | DMG
August 22, Maungdaw

Although the government has set up the repatriation camp at Taung Pyo Let Wae town in Maungdaw Township, no people returned to Myanmar from Bangladesh on August 22.

"Nothing special has happened until now. No one has returned yet," said U Ye Htoo, deputy head administrator of Maungdaw district.

Under the Myanmar-Bangladesh joint agreement, Myanmar had arranged to accept more than 3,000 people. But it wasn't clear why they did not return.

The repatriation plan includes two camps: Taung Pyo Let Wae camp 1 has been opened for those who come back by land and Nga Khu Ya camp 2 has been opened for those who return by water.

This was the third attempt at repatriation under the bilateral agreement, after the first on January 23, 2018, and the second on November 15, 2018. So far, none of the people have returned yet officially.

The Muslims in the camps in Bangladesh and Muslim rights groups have said that they need a real guarantee of citizenship, security and a promise of returning to their original homes. As long as the Myanmar government does not guarantee these, they said they would not return to Myanmar.
 
The United Nations says that around 700,000 people from Myanmar fled to Bangladesh after violence erupted in August 2017 following military operations against the Muslim people in Maungdaw district of Arakan State.
Related Posts :
Myanmar and Bangladesh agreed to start repatriation of displaced Muslims this month
Muslims from Bangladeshi IDP camps to demonstrate
Returnees to be received at Taung Pyo Let Wae reception centre