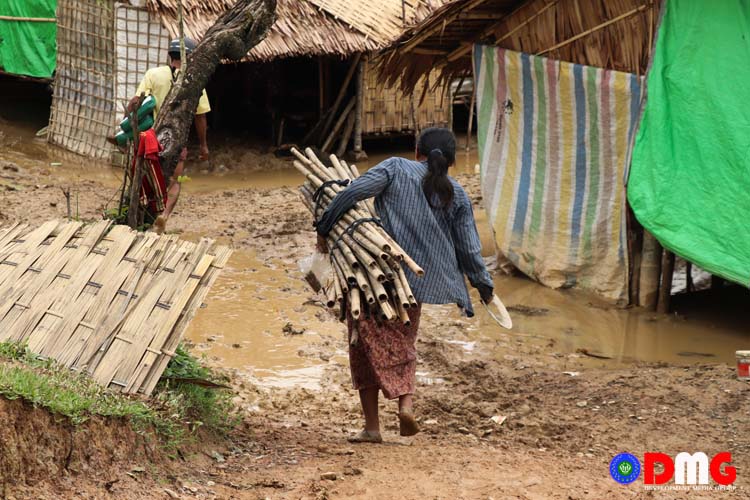 Chan Aye | DMG
August 22, Mrauk U

Internally displaced persons in Tin Nyo IDP camp, Mrauk U, are facing food shortages because the government has stopped rice deliveries from the International Committee of the Red Cross, camp official U Soe Naing said.

He confirmed that the state government instructed the organization to stop providing food because it said the camp had enough food for this month.

"ICRC informed us that they cannot provide rice for the coming month. They can give other support, such as charcoal, but they will not receive rice because they have enough," he said.

Around 3,000 people are staying in the camp and they require more than 1000 rice bags per month.

U Soe Naing said that they are facing many difficulties because the rice provisions have been cut.

He added that they only have about 100 bags of rice left. It will cost about MMK 20 million to buy 1,000 bags and it will be hard for CSOs to provide such a large amount of money.

"If we cannot rely on ICRC, we will die from hunger. That's it. That's why, they [the government] shouldn't stop them [from providing rice]," a woman living in the camp told DMG.

DMG also tried to contact the spokesperson of the state government but couldn't get in touch with anyone.

ICRC said that they have been providing assistance to Tin Nyo camp since May 2019.

"We will try to solve this by cooperating with local and state authorities and will keep studying and reviewing the requirements of these refugees. We will discuss these matters with related government departments and will keep working to help the [people in the camps]," ICRC said.

"If more rice is required [at Tin Nyo camp], ICRC will talk to authorities and arrange to provide other food apart from rice. We are always learning about the situation on the ground and will help our best based upon the requirements," ICRC said.

The Government allowed only the ICRC and WFP to give assistance in IDP camps, which now have more than 60,000 IDPs in Arakan State.
Related Post : DMG's Interview with ICRC on the situation of Tin Nyo IDPs Camp