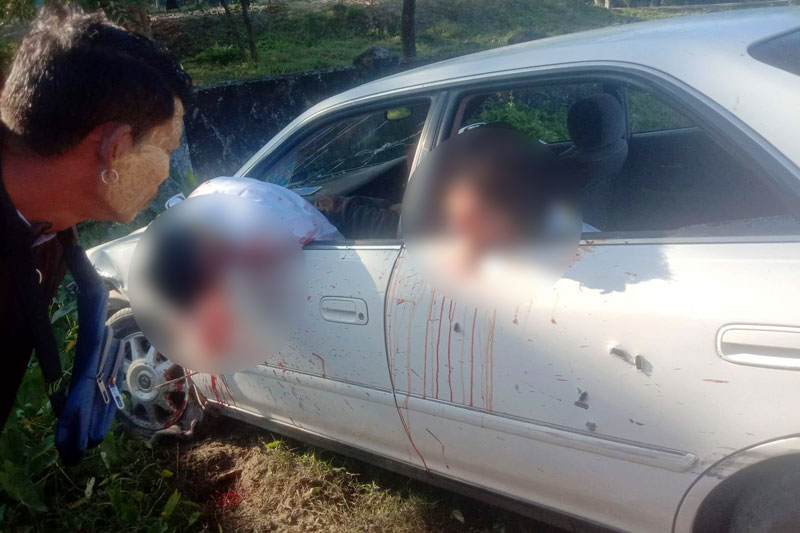 DMG Newsroom
5 January 2023, Sittwe
Gunmen who shot dead three members of the Arakan Liberation Party (ALP) in Sittwe's Setyonsu Ward on Wednesday were members of the United League of Arakan/Arakan Army (ULA/AA), the Sittwe-based ALP alleged in a statement on January 5.
The three ALP members, in a civilian vehicle, were attacked near a school in Setyonsu Ward, where they were found dead of bullet wounds at about 8 a.m. on January 4.
The slain ALP officials have been identified as the commander-in-chief of the ALA, the armed wing of the ALP, Major General Khaing Soe Mya; No. 101 battalion commander Lieutenant Colonel Khaing Kyaw Soe; and Captain Khaing Thurein Na. The three were on their way to a junta-organized event to mark the country's 75th anniversary of independence when they were shot dead.
"The ALP strongly condemns the ULA/AA assassination of Major General Khaing Soe Mya and a commander, which not only damaged the unity of the Arakan State, but also shocked the Arakanese people," the ALP said in the statement.
U Khaing Thukha, spokesman for the ULA/AA, refuted those allegations. 
"They have accused us perhaps because they want to revive their lost popularity," he said. "What's more, the ALP is divided into two camps, which are fighting each other. They even compete about who should represent when the ALP is to attend a meeting in Naypyidaw. They have many internal conflicts over financial matters and power struggles."
The three might have been killed by other forces that want to stir things up, U Khaing Thukha suggested.
"It is also possible that a certain group has killed them to further complicate problems. We have no comment," he said.
The ALP statement said the party would seek justice for the ULA/AA's ongoing misconduct.
The ALP announced on November 10, 2022, that there were arrests of party leaders, members, and people associated with the party in August 2022, with 16 arrested by the AA that month alone.
The ALP is a signatory to the Nationwide Ceasefire Agreement, and an ALP delegation led by Daw Saw Mra Razar Linn has been involved in peace talks with Myanmar's military regime. Khaing Soe Mya had recently met regime chief Min Aung Hlaing in Naypyidaw.