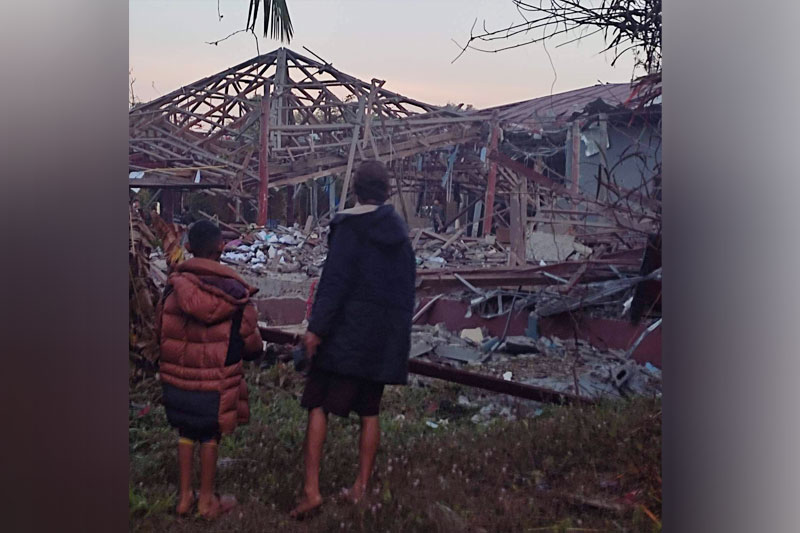 DMG Newsroom
21 January 2023, Kyainnseikgyi, Kayin State
Myanmar's military regime launched an airstrike on a military encampment belonging to the Democratic Karen Benevolent Army (DKBA) in Kyeinchaung Village, part of Kayin State's Kyainnseikgyi Township, in the early hours of January 21.
"A junta fighter jet dropped four bombs on the DKBA's No. 2 tactical command headquarters at around 1 a.m., hitting a home owned by DKBA Colonel Saw A One,"  said a resident of Kyeinchaung Village. 
A free clinic run by the DKBA and staff housing were damaged, and two villagers were killed in the Myanmar military's aerial assault, said another resident.
"A bomb dropped by the junta fighter jet landed near the operating room of the clinic. Two villagers were reported to have been killed by the junta's airstrike," the resident told DMG.
Following the airstrike, at least 3,000 local people from three villages fled to safer locations near the Myanmar-Thai border and surrounding forests.
The DKBA had not released any statement about the junta attack as of press time. The Karen ethnic armed group is a signatory to the Nationwide Ceasefire Agreement (NCA), and has been involved in peace talks with Myanmar's military regime.