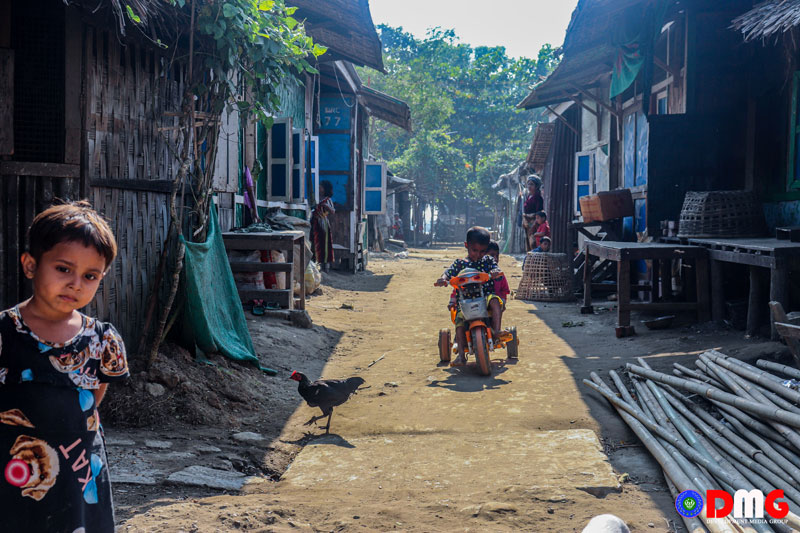 DMG Newsroom
23 January 2023, Sittwe
Muslims who have been living in camps for internally displaced people (IDPs) in Sittwe Township, Arakan State, for a decade are reportedly facing accommodation difficulties as the populations in the camps rise.
With some families of 10 or more crowding into living spaces within the camps that can be as small as a single, 100-square-foot room, Muslim IDPs want the relevant authorities to expand the construction of shelters.
"Some families have 10 to 15 family members living in a small room," an IDP at the Bawdupha displacement camp told DMG. "Some IDPs can't afford to live comfortably. Some Muslim IDPs are living in makeshift tents on the fields near the IDP camp."
As a result of the intercommunal violence that broke out in Arakan State in 2012, more than 100,000 Muslims from Sittwe Township were forced to take shelter in displacement camps. 
Muslims living in the camps say they are losing out on access to healthcare and employment opportunities due to authorities' restrictions on their travel from village to village and township to township.
"Some Muslim IDPs earn a living by working on fishing boats. Some make a living as motorbike taxi drivers. About 90 percent of the Muslim IDPs are unemployed," said a Muslim IDP from Thechaung IDP camp. "I hope there will be more jobs for the Muslim IDPs because the rest of the people have to survive on support from charities, the government and INGOs [international nongovernmental organisations]."
The United League of Arakan/Arakan Army (ULA/AA) has worked to improve relations between the Arakanese and Muslim communities, and advocates say those efforts have paid off; they point to cross-cultural exchanges like an inter-faith football tournament held in late 2021, and Muslims rejoining the workforces in some urban parts of Arakan State where they had been largely absent over the past decade.