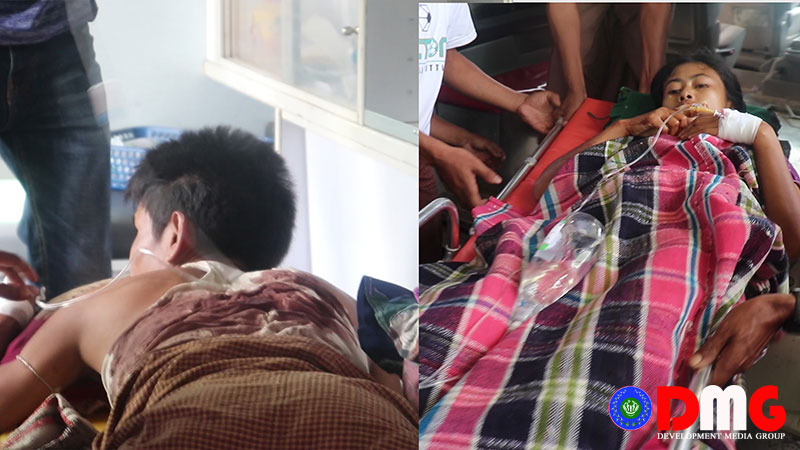 Sein Ko Ko and Kyaw Thu Htay | DMG
15 September, Kyauktaw
 
During gunfire on Saturday night in Kyauktaw Township a villager was killed and five others were injured, according to local sources.
 
One local resident from Kan Thone Sint village was killed and three people from Thinganet village and two locals from Sapae Hla village received gunfire injuries.
 
A shell landed on the house of U Ni Tun from Kan Thone Sint village at midnight and his leg got hit. He received medical treatment in Kan Sauk village but he died before he was brought to Sittwe hospital.
 
"The shell came from east of the village. We are not sure if it was an artillery shell or bullet. He received injuries while he was sleeping in his house. The bone of his leg was crushed into several pieces due to the impact of the shell that landed on his house. While we were preparing to send him Sittwe hospital, he died," said administrator of Kan Thone Sint village.
 
Among the five injured, two of them from Thinganet village received severe injuries. An injured couple arrived at Sittwe hospital on the afternoon of 15 September.
 
U Shwe Tun Thein and Daw Khaing Nyo received severe injuries from gunfire that came from a naval force along the Kaladan River in Kyauktaw Township, one of their family members said.
 
"There was gunfire at about 1 a.m. People ran outside of their houses for safety. They were hit by an artillery shell while they were lying on the ground for safety. The Navy Force shot from the river," said Daw Khaing Khaing Yee, younger sister of Daw Khaing Nyo.
 
The DMG phoned Colonel Win Zaw Oo, head of the Western Command, and the AA's spokesperson Khaing Thukha about the gunfire.
 
Khaing Thukha, spokesperson of the AA, said that the AA's troops attacked the Navy's vessels two times on 15 September.
 
"Our troop attacked two navy vessels that were carrying about 300 soldiers. It was attacked near Apauk Wa village at about 1 a.m. Then, at about 3:30 a.m., we started a new attack against the Navy upper Kyauktaw," Khaing Thukha said.
 
He added that casualties and damage had not been known but he heard that the vessel kept on going along the river and shot at villages which caused villagers to get injuries.
 
Colonel Win Zaw Oo told the DMG that he did not know exactly about the fighting although he heard that there was fighting.

U Oo Tun Win, Pyithu Hluttaw representative for Kyauktaw Township, said that majority of villagers have been concerned about their safety throughout the whole day because of the ongoing clashes in the region.