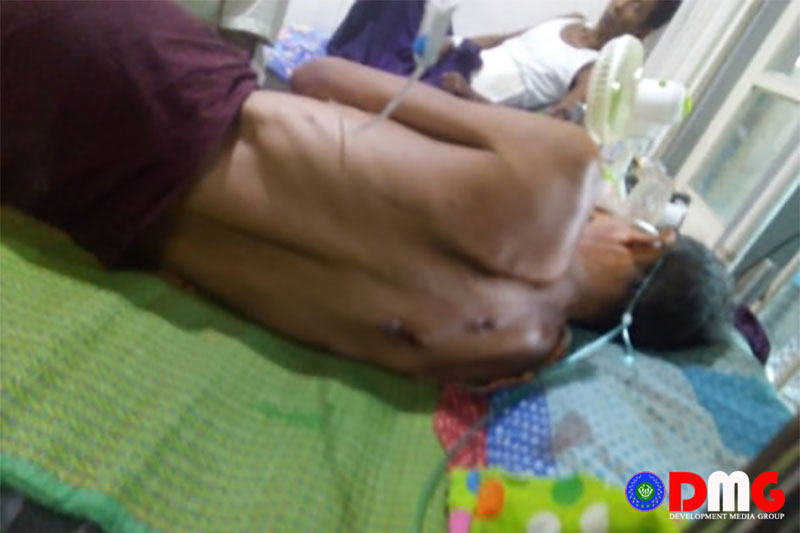 Aung Htein | DMG
30 September, Sittwe

Two villagers were hit stray bullets as a Tatmadaw troop fired near Miwa village, Kyauktaw Township, members of their families said.

U Thar Tun Oo, 63, and Mg Naing Lin Soe, 22, were reportedly hit by stray bullets due to the gunfire from a naval vessel in Kaladan River on September 29.

"They were ploughing when a naval crew opened fire. They were crouching at first, then when the sound of shooting stopped, they stood up and looked around and were hit by stray bullets," said Daw Ma Than Myint, aunt of Nai Linn Soe said.

Colonel Win Zaw Oo, head of the Western Command, however, raised question about the evidence to prove villagers were hit by bullets fired by the Tatmadaw.

"The Tatmadaw will not shoot without reasons. How would you prove that they were hit by the Tatmadaw's bullets?" Colonel Win Zaw Oo said.

Currently, U Thar Tun Oo has undergone medical treatment at Sittwe hospital and Mg Naing Lin Soe has been treated at Kyauktaw hospital.

"U Thar Tun Oo received three wounds to his back. Kyauktaw hospital transferred him to Sittwe hospital because he was injureed in his lung also. A bullet was found according to the result of radiography," said Ko Ngwe Tun, son-in-law of the victim.

On the same day, U Thaung Htay, 42, from Kywe Haung new village, Paletwa Township in Chin state, was also reportedly hit by a stray bullet. The village is located close to Miwa village.

The number of civilian deaths in Arakan State between December last year and September this year has reached over 80 and the injured number has reached over 130, according to the figures from CSOs and members of parliament (MPs).