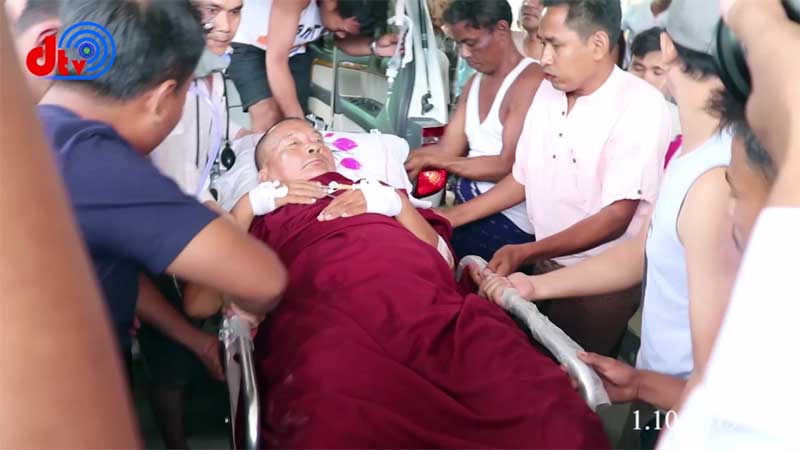 Min Tun | DMG
October 3, Sittwe

A head monk, who got hit by a stray bullet, from Miwa village's monastery in Kyauktaw Township, Arakan State was brought to Yangon General hospital from Sittwe on October 2, a close laymen of the monk said.

Five people, including the head monk of Miwa monastery, who is secretary of Arakan State Sangha Maha Nayaka Committee and one novice, got injured as stray bullets landed in the monastery compound.

All the injured were sent to Kyauktaw hospital at first, but later the head monk and novice were brought to Sittwe hospital because their injuries were more severe than other three people.

U Saw Hla Maung, who nurses the monk closely, said that they finally decided to take the monk to Yangon.

"He received one injury on the hand. Another one is on his left hand. And a piece of bullet is lodged in his lung. We don't know whether he will have an operation, there were no qualified doctors at Sittwe hospital.  So we decided to bring him to Yangon," he said.

Along with the head monk and novice, three other villages were injured who are students San Win Hlaing, 14 and Taung Bar, 15 and monastic school teacher San San Nwe, 19.

The families of the injured said that the soldiers from a naval vessel shot them as they were staying in the monastic school in the monastery compound after some of the villagers were hit by stray bullets while living in their house.

However, the Tatmadaw has denied the accusation against them and responded that the villagers were shot by Arakan Army (AA) as both sides were having fights. 

AA said that no fight between two groups and the naval soldiers shot the villagers intentionally.
Related Post : Five villagers injured by stray bullets in Kyauktaw