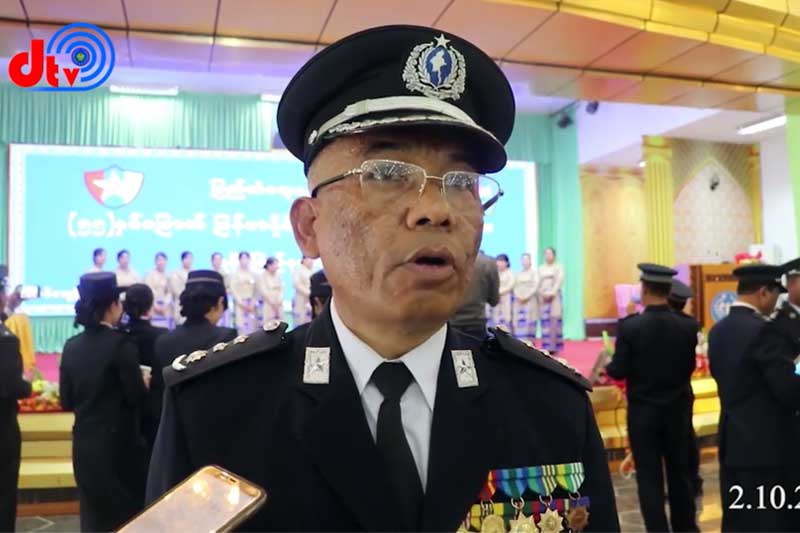 Min Tun | DMG
3 October, Sittwe
A Police force is carrying out security of Arakan State by collaborating with the Tatmadaw and civil organizations, Police Chief Colonel Kyi Lin, head of Arakan State Police Force, told the media after the ceremony of 55th Myanmar Police Force Day held at U Ottama Hall, Sittwe city, on 1 October.
"We're doing many things including cooperating with the Tatmadaw and other government departments," he said.
At the event, two police members who fought rebels together with the Tatmadaw received awards. The term 'rebel' was used; however, it did not say which group it was referring to.
Currently, the Tatmadaw and government call the Arakan Army (AA) rebels.
Police Chief Colonel Kyi Lin said the Arakan Police Force will work together with the Tatmadaw if it is needed in carrying out the rule of law and regional stability.
"Our original duty is regional stability and peace. The duty of the Tatmadaw is to fight against people specified as rebels and to carry out the rule of law and peace. So we work together for the things relating with our duty. We need the Tatmadaw's help in some situations we are not able to carry out alone. When the Tatmadaw asks for help from us in cracking down on rebels according to the law, we provide help," he said.
It has been nearly 10 months that clashes erupt between the Tatmadaw and the AA in Arakan State and the AA attacked some police stations during the fighting.
Some police members collaborated with the Tatmadaw and fought the AA. The Tatmadaw, however, has denied that police members have fought the AA along with the Tatmadaw.