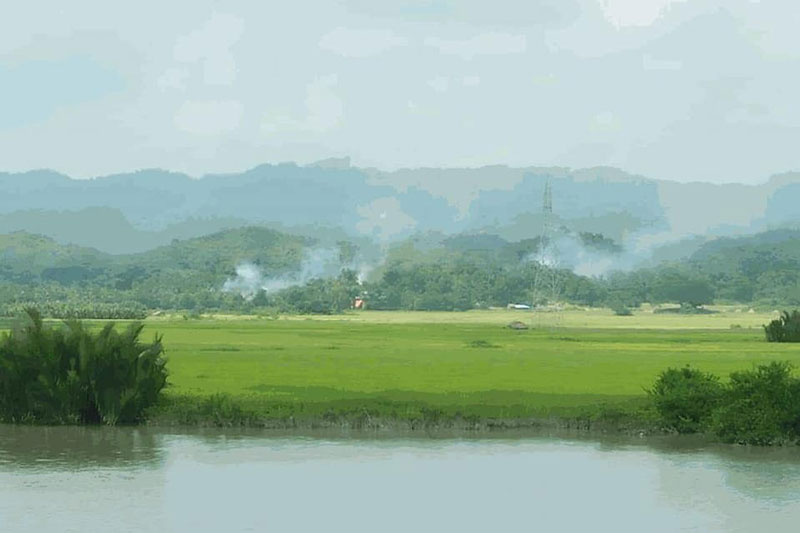 Win Nyunt and Cha Lu Aung | DMG
5 October, Buthidaung
 
Some houses in Kuntaung Village, Buthidaung Township in Arakan State have been set on fire by the Tatmadaw at about 2 p.m. on 4 October, U Shwe Hla Aung, Township Administrator confirmed.
 
Kuntaung Village consists of about 60 homes and no one lives in the village because all villagers took refuge at Zedi Taung internally displaced camp and an IDP camp in Buthidaung Township due to fighting between Arakan Army (AA) and the Tatmadaw since April.

"I received information about the fire but I couldn't say exactly how many houses had been burned down," the township administrator added.

A military column arrived in Kuntaung Village about three days ago. A local accused the Tatmadaw of setting fire to some houses in the village.

"Kuntaung Village where the Tatmadaw troops are deployed can be seen from the side of Zedi Taung IDP camp. Some villagers from Kuntaung Village reportedly saw that the Tatmadaw set fire to some houses in the village," said U Aung Thaung Shwe, the Pyithu Hluttaw Representative for Buthidaung Constituency.

Asked about accusations by locals, Col Win Zaw Oo, the spokesperson for the Tatmadaw's Western Command denied the allegations.