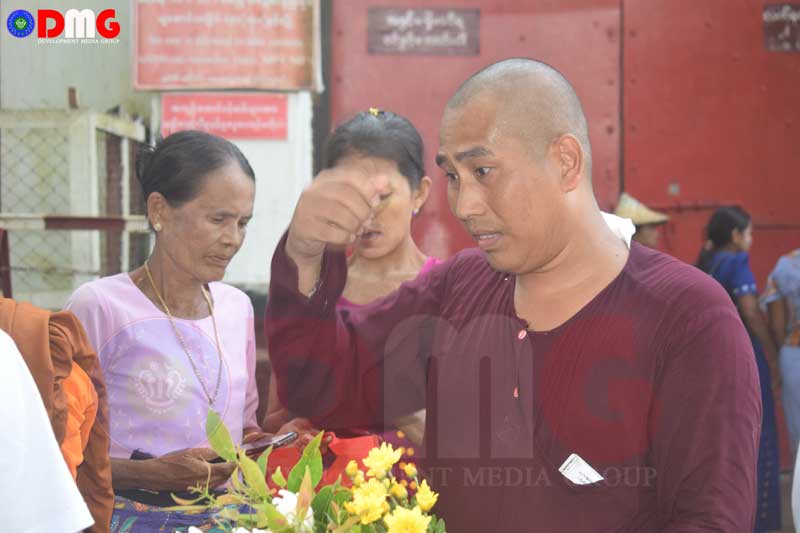 Khaing Roe La | DMG
5 October, Sittwe
 
Two Buddhist monks who have been sued under Anti-Terrorism Law were released by a district court in Sittwe, Arakan State on 4 October before being charged but one of them was remanded in custody for driving an unlicensed car.
 
"The two Buddhist monks were released by the court before being prosecuted because accusations against them were not accurate," U Than Tun, the advocate for the defendants told the DMG.
 
U Nyarna, abbot of Gandamar Taung Monastery in Mrauk-U Township and U Thuwunna, abbot of Thirimyintzu Monastery were arrested along with three others by the Tatmadaw near Kansauk Taung in Kyauktaw Township on 1 April. They were travelling from the Arakanese city of Sittwe to Mrauk-U by car.
 
The Tatmadaw released a statement, saying the suspects were arrested for having suspected links to the Arakan Army (AA).
 
Major Ye Zaw Tun from Tatmadaw's Infantry No.539 from Kyauktaw Township charged five people including the two Buddhist monks under section 52 (a) of the Counter Terrorism Law for allegedly supporting the Arakan Army (AA).
 
U Thuwunna, one of the Buddhist monks was remanded in custody for an additional two weeks and is being sued by Police Inspector Nyi Nyi from the Criminal Investigation Department (CID) under the Export and Import Law, said the lawyer.
 
Around 130 Arakanese civilians have been arrested since December last year and charged with suspected links to Arakan Army (AA), said some Arakan State MPs.
Related Post :
Two monks and three people charged under Counter-Terrorism Act appear in court
Two monks accused of having suspected links to AA appear in court
Tatmadaw detains two monks and three people for affiliations with AA