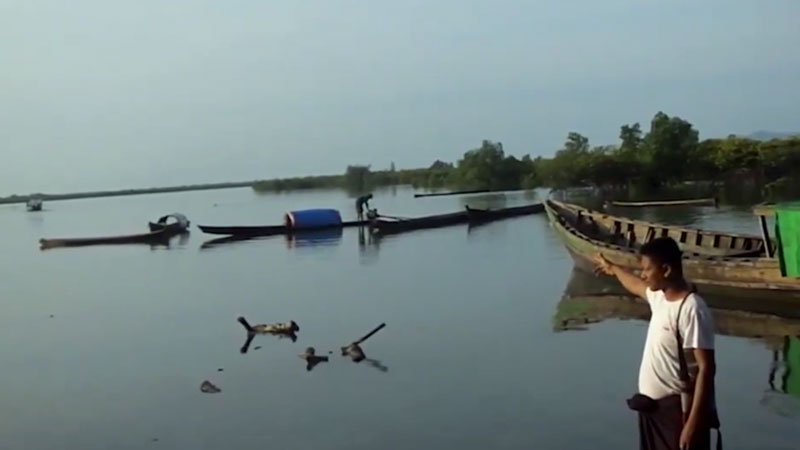 Khaing Min (Kyaukphyu) | DMG
4 October, Kyaukphyu
 
The manageable-sized fishing ponds operated by residents in Ann Township, Arakan State have been affected by privately-owned fishing lakes, according to local people.
 
The Kyar Oh Creek in Ann Township, Arakan State was blocked by a private firm to build ponds for breeding fish, prawns and crabs, said some locals.
 
Local people who rely on fishing, catching prawns, crabs and mussels now face challenges for their survival compared to previous times, said U Nay Soe from Lin Ban Kya Village.
 
"I think everything will be controlled by private firms if fishing farms are privatized. Because nearly 70 percent of locals depend on this creek for fish farming and only 30 percent of residents work in agricultural business", he said.
 
If someone wants to apply for operating a fishing farm by blocking the creeks, the Department of Agriculture Land Management and Statistics gives the green light based on the criteria of whether the business will affect the locals, said an official from the department.
 
"Local farmers who worry about the privatization of fish farms can object to the plan if it affects their farmlands. We don't have any restrictions on objections," said U Win Naing, the Deputy Director of the department.
 
"We will be in trouble if someone holds the rights to these fish farms because majority of local people earn their livelihood by fishing," he added.
 
Local people are planning to oppose the privatization of fishing farms to appropriate officials.
 
Hundreds of residents from Kyauk Myaung, Lin Ban Kya, and Ngan Kyun villages in Ann Township make their living by catching mussels, crabs, fish, and prawns in the Kyar Oh Creek.