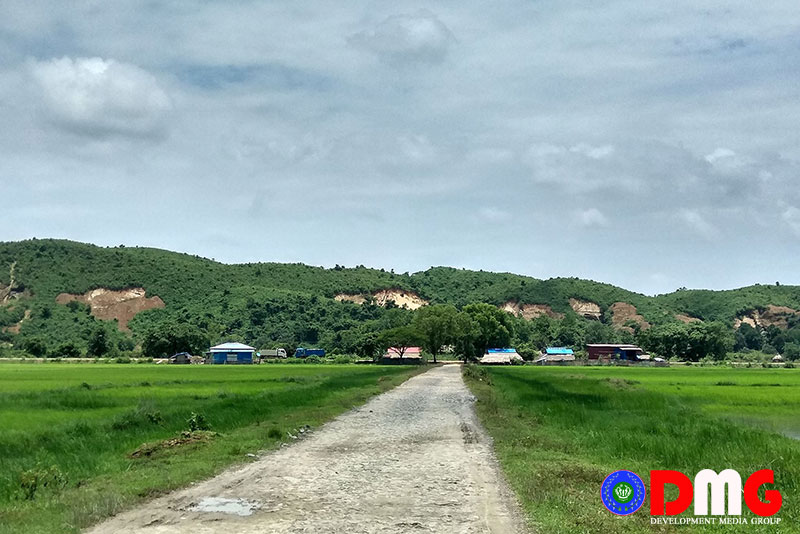 Kyaw Chit | DMG
October 7, Sittwe

The Tatmadaw detained and questioned three people, including a monk, from Ohe Htein village in Mrauk-U Township, Arakan, Brig-Gen Zaw Min Tun, secretary of the Tatmadaw True News Information Team, said at a Tatmadaw press conference on September 28.

Brig-Gen Zaw Min Tun also said one AA soldier was among the three detainees.

"We had a fight near Linn Mywe Mountain Range and we saw two motorbikes with demolition accessories. During that time, two men and a monk arrived near the motorbikes to look at the demolition gear. We detained and questioned them regarding the bomb gear. One of them is an AA soldier," he said.

Although DMG tried to contact to the AA for comment, the AA didn't respond.

Relatives of the detainees said that head monk U Kawi Daza, village administrator U Wai Soe Tun and a car driver U Maung Thar Sein from Ohe Htein village were arrested on September 20 by the Tatmadaw near Linn Mywe mountain while travelling to an event by car. 

The families are concerned because more than 10 days after their arrest they still haven't been told where the three are being detained.
"Sayardaw [the head monk] is just carrying out his monk duties. Can he be arrested without committing any mistakes? The lent season is nearly finished and I want him to be back at the monastery before that," said Ma San Nwe, the sister of the head monk.
On September 25, the head monk of Myo Oung Kaung monastery in Mrauk-U Township submitted a request letter about the detainees to Arakan State Chief Minister U Nyi Pu and Arakan State Border Affairs and Security department on behalf of their families.
The head monk of Myo Oung Kaung monastery said that Chief Minister U Nyi Pu said that the three detainees were in Sittwe, and their families will be able to meet them soon.
Villagers from Ohe Htein said that they saw some dead bodies buried near Linn Mywe Mountain where the monk and two villagers were arrested. But the families of detainees cannot be confirmed who the dead bodies were and want to meet with their relatives very soon.