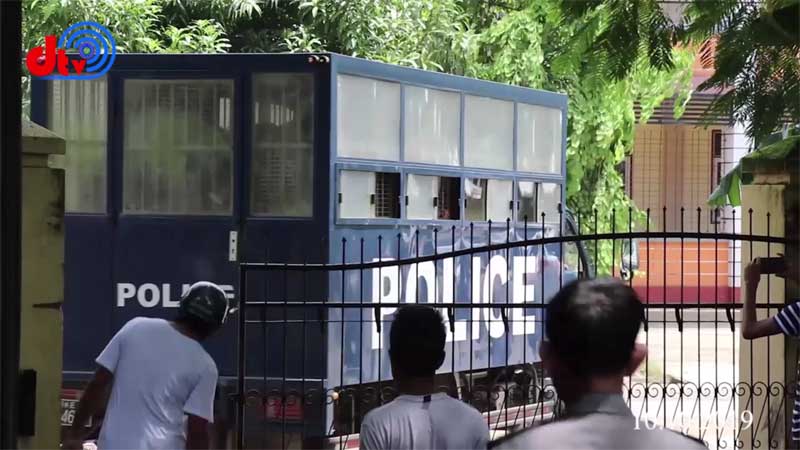 Aung Htein | DMG
10 October, Sittwe
 
The court of Sittwe Township, on 9 October, examined 13 residents from Shinletwa, a village in Chin State's Paletwa Township, who are facing charges for allegedly associating with the Arakan Army (AA).

The plaintiff's witnesses would be 10 in total and 7 of them have already testified. The other 3 have yet to testify since they are imprisoned in Pakokku Township, according to Advocate U Htun Hla who is helping them (the three witnesses) with their case.

"The 3 witnesses are in Pakokku jail and the court has issued a written statement, but things didn't work out this week for the witnesses. I don't know how next week will turn out," said U Htun Hla.

"If it's not possible to transfer them, I'd have to make a request to the 'Commission' to examine the situation," he said, "I'd have to arrange for the Commission's examination."

"It seems it (transferring witnesses) would take a while," he continued.

The plaintiff is Major Naing Aung Phyo from Battalion 375 and the charges are section 17 (1) and (2) under associating with unlawful organization.

It was last February that 11 Shiletwa villagers and the husband and the wife, who are owners of house where they stayed in Kyauktaw Township, were arrested and charged for allegedly connecting with and supplying food to the Arakan Army (AA).

Daw Ma Thaung Tin, wife of U Maung Khine who is one of the arrested, said, "Ask me why (they) were arrested, I don't know what to say even now. I wish they would be released soonest.

"We request to release them fast," she said.

"My husband makes an honest living. He was just going between Shinletwa and Kyauktaw," she continued, "They don't associate with the AA. There is no connection whatsoever."

Another trial for the case has been scheduled for 23 October.