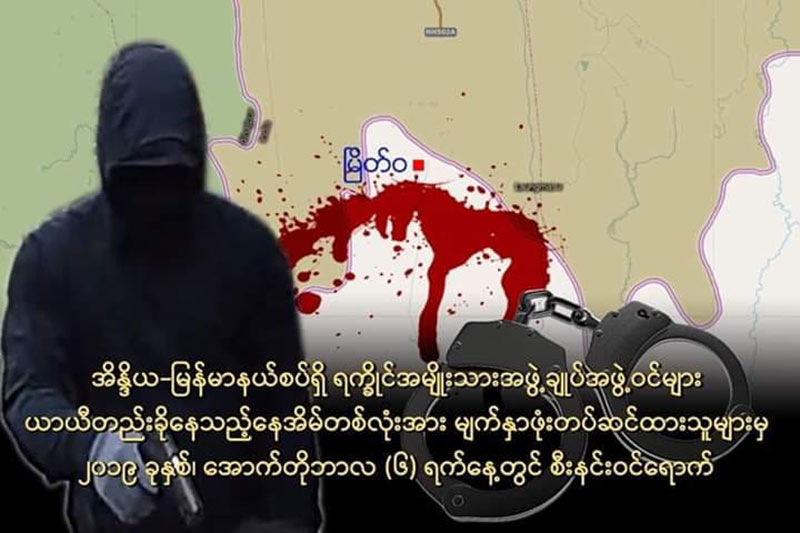 Myat Win Kyaw/DMG
October 17, Yangon
The Arakan Army (AA) released a statement on October 15, it said that one AA soldier was arrested by a group of seven people with their faces covered in Lon Tin Lai town, Mizoram State located in India – Myanmar border.
The AA also made the accusation that some of seven people who arrested the AA member were from the Arakan Liberation Party (ALP).
Khaing Thukha, the AA's spokesperson, said that while the AA's member Kyaw Win Naing was staying at his friend's house because of health issues, the group of seven broke the house's door down at around 1 a.m. on October 6 and arrested Kyaw Win Naing and took his laptop, mobile phone, some documents and money.
"Kyaw Win Naing's friend wasn't at home then. But two children were there. They escaped from the group because they ran away. The kids said that two people from the ALP were in the group. The two people from ALP were Khaing Aye Paing and Tike Aung, and they arrested the AA soldier together with Indian border guard forces and Myanmar armed forces [Tatmadaw].
"I heard that two people from the Tatmadaw were in the group. Two people from ALP informed the Tatmadaw about our AA member. The ALP has to take responsibility about this issue," Khaing Thukha said.
The ALP said on October 16 that the party didn't order its members Khaing Aye Paing and Tike Aung to make the arrest but they will investigate whether their members actually got involved in the issue.
"We don't order our people to do this and we assume that they didn't do that. What we are doing now isn't a revolution for the party. We are working for the whole Arakanese people so we have to consider all organizations which work for Arakan State as our colleagues," Colonel Khaing Saw Mya, spokesperson of ALP said.
He added that ALP wasn't based in the area where the situation happened and also has its own policy – not to fight or plot against any ethnic armed groups.
"We are obliged to say that we were not involved in this issue. But we will question our members because the AA mentioned their names. If they actually took part in the case, we will take the action against them according to our rules," Colonel Khaing Saw Mya said.
Khaing Thukha said that the AA soldier was referred to Myeik Wa police station on the Myanmar side, opposite from Arthan Rifle's troops of India on October 10, and according to information from locals, he assumed that Kyaw Win Naing was killed on October 12 at a public rest house in Myeik Wa village.
He added that Kyaw Win Naing's legs and hands were cut out.
"We are waiting whether he would be charged at the court according to laws. But it didn't come to the court, and we heard that he is killed. However, we haven't been able to confirm about that yet," Khaing Thuka said.