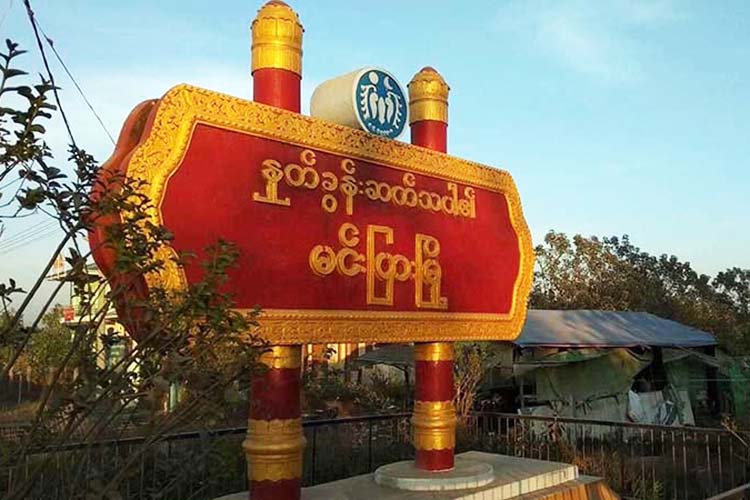 Kyaw Thu Htay/DMG
21 October, Sittwe

An artillery shell landed on a house after a military convoy was hit by a landmine on the morning of 21 October near Khaung Laung village, Minbya Township, injuring two villagers, local sources said.
Daw Khin Win Nwe, 20, received an injury on her right arm and her three-year-old daughter Ma Khin Oo Nwe got injured on her back.
"Two landmines went off at about 8:30 a.m. when a military vehicle reached near Nayan junction. Then, an artillery shell landed in the village. A mother and daughter were hit by pieces of shrapnel," said U Hla Thein Aung, Arakan State MP for Minbya Township.
They have currently been provided medical treatment at Minbya township hospital, he added.
The Tatmadaw confirmed that a military convoy was struck a landmine in Minbya Township.
"Our convoy, on an administrative task hit a landmine. It was an attack obythe AA. There was no reports of casualties," Colonel Win Zaw Oo, spokesperson of the Western Command, told the DMG.
After the military convoy struck a landmine, the military troop fired an artillery shell into the village and a young mother and her toddler got injured, a local witness told the DVB.
Colonel Win Zaw Oo, however, told the DMG: "We did not shoot."
There was no fighting near the village, according to local residents.
The DMG phoned the spokesperson of the AA Khaing Thukha to seek comment on the remark by the Tatmadaw over the landmine detonation, but he could not be reached.