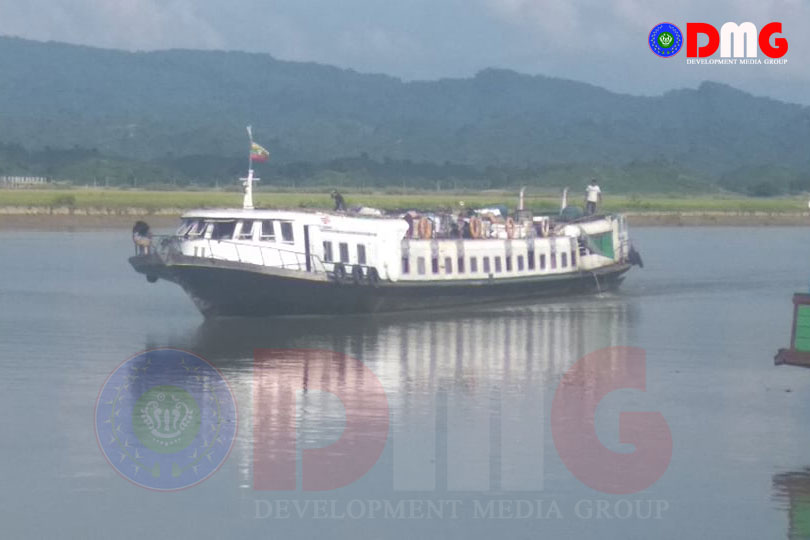 Phadu Tun Aung/ DMG
October 27, Sittwe
The Arakan Army (AA) stated on October 27 that the Tatmadaw's helicopters gunfire injured and killed some detained Tatmadaw soldiers and civilians, as well as AA soldiers.
The AA said that because some Tatmadaw soldiers were pretending to be civilians and travelling with other passengers on the Shwe Nadi express boat that runs from Sittwe to Buthidaung, they stopped the boat near Yay Myat village in Rathedaung Township and detained some Tatmadaw soldiers and other suspicious people.
In the statement, the AA said that the Tatmadaw soldiers shot guns and rockets from three helicopters while AA forces were transferring the detainees to safe place with motorboats. The attack sunk two AA boats and damaged another.
The AA added that most detainees were killed in the attacks and some AA members also died.
"Tatmadaw troops fired weapons from three helicopters until 6p.m.The detainees who weren't under any cover were killed," said AA spokesperson Khaing Thukha.
He added that they haven't confirmed yet who died and who ran away to safety because of the shooting. The detainees included some civilians who the AA had been planning to release, and it is now examining how many of them were killed, he said.
The Tatmadaw used the helicopters near Yay Myat, Kyauktan, Lai Gwin villages in an apparent attempt to free the detainees.
Regarding the AA statement, the DMG tried to contact Colonel Win Zaw Oo from the Western Command but his mobile phone was switched off. DMG also contacted Brigadier-General Zaw Min Tun from the Tatmadaw True News Information Team but he did not respond.
State-owned newspapers mentioned that the AA had detained 14 Tatmadaw soldiers, 29 policemen, two staff from the Prisons Department and 13 civilians who were travelling on the boat.